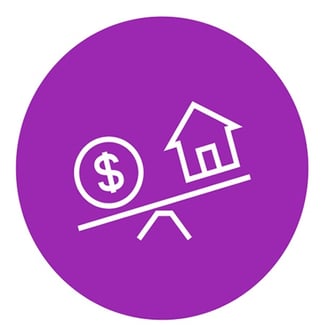 There's a big difference between simply spending money and investing it wisely. Smart investors always look at things like risk and return on investment.
We're not investment experts, but if you're considering investing in a Poconos Mountains investment property, here are a few factors to consider—from a builder's perspective.
Location
Where you build your Poconos Mountain home really does matter. It can impact the cost you pay to build—and affect the price you'll get for your home should you decide to sell down the road. In a place like the Poconos, it's easy to get caught up in looking for great views. And while that's important, you'll also want to consider the suitability of the lot. Will the parcel of land you're looking at require a lot of preparation work for the foundation? What about access to utilities? You'll also want to consider the kind of community you'll be in. You'll want a community that helps your home retain it's value. We invite you to check out these great communities where we currently build. Or we can also help you find your own lot elsewhere
Design
The design of your home has a huge impact on the value of your house now and for years to come. I'm not just talking about décor, I'm talking about the overall layout of the home. Homes with great floor plans hold their value. Part of your consideration should include thinking about how much space you'll want now and down the road. Spending a little more for extra space now can pay off big time when it's time to sell. Here's a look at some of the great floor plan options you have to choose from.
Quality
There is no question that quality holds its value. Quality materials and craftsmanship simply last longer. Cutting corners may save a few dollars initially, but if you have to replace or repair things—there's really no savings. It's easy for a brand new home to look good for a while. A quality home will still look and feel solid years later.
There's also an "enjoyability" factor that's hard to measure in pure dollars and cents. Chances are that you aren't buying a house—even an investment property—simply for the investment potential. If you plan to live in your home for a while you'll want it to be as comfortable and enjoyable as possible. And frankly, a well built home is also less expensive to maintain. You'll spend less on utilities to heat or cool it, and you'll be more comfortable at the same time.
No one can project exactly what housing prices will do in the future. But one thing is clear: Quality homes in great communities hold their value better. And that's important whether you plan to stay in your home for five years or 25 years.
If this makes sense, but you're not sure about which steps to take next, I invite you to schedule a free, no-obligation phone consultation to gather some more information. I can help you set a budget range to determine the feasibility of the home you have in mind. I'll provide you with examples of what others in your situation are doing. We'll chat about some design trends, and I'll answer questions you may have.