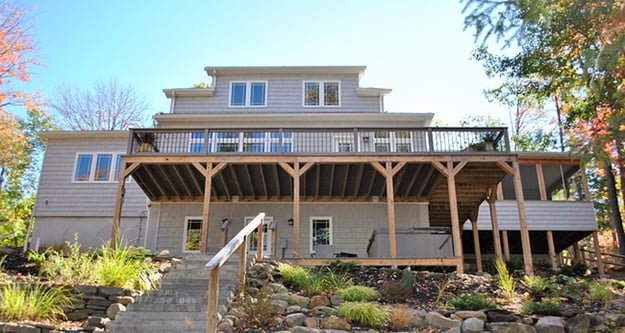 If you've been toying with the idea of building a new home in the Poconos, there are three options you may want to consider. I'm not talking about three different styles of home (at Liberty Homes, we offer a lot more than just three kinds of floor plans. Click here to see for yourself!). I'm talking about three different ways you can use your new home.
Rental Property: Maybe you have a sense that now is a good time to build a home—but you're not quite ready to make a move to the Poconos yet. Interest rates are slowly moving higher. And it's unlikely that labor and material costs will go down in the future. One option to consider is building a home now while prices and interest rates are still very reasonable. Then you can rent out your property so that it generates income until you're ready to make a move. You could find a long-term renter, or you could rent the house to people visiting the area. Given the fact that nearly 24 million people visit the Poconos every year, there is an abundance of opportunity!
Vacation or Second Home: It may be that your family enjoys visiting the Poconos on a regular basis. Maybe you rent a place to stay when you come, or perhaps you stay at a local hotel or resort. Having a second home in the Poconos can make your time here more enjoyable and comfortable. You'll end up with a lot less to pack and you'll be earning equity instead of paying someone else for a place to stay. On top of that, a lot of people have found that having a vacation home in a special place like the Poconos it a good way to build memories that keeps even grown children coming back (maybe with their kids).
Permanent Home: It could be that you're just ready to leave the noise and pace of city or suburban life behind. Maybe you have a job that allows you to work from anywhere you choose. And even if you need to get into the city occasionally for work, the Poconos are only 90 minutes from New York and a couple of hours from Philadelphia. And maybe you're thinking about a place where you can retire—away from it all—that still offers you plenty of activities in an incredibly beautiful setting.
What kind of home are you looking for? Any of those options are a great reason to consider building in the Poconos. I invite you to take a look at some of the available properties in the Poconos that would be great for a rental, a second home, or a permanent home.