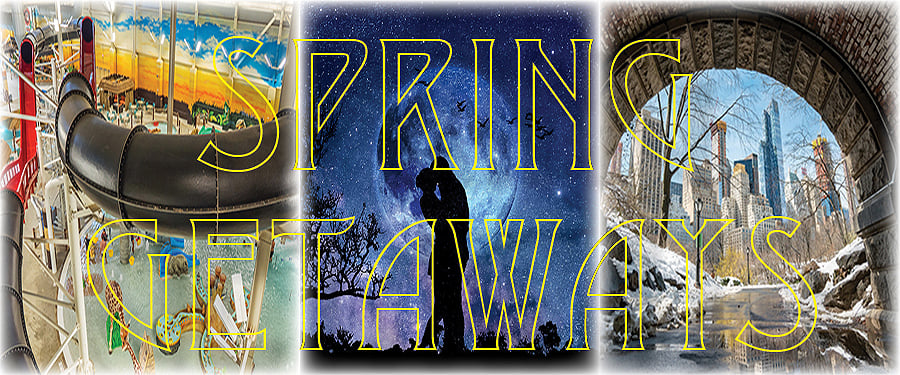 There's no doubt about it that the Poconos Region is a great place to live. But even if you're fortunate enough to live here you may still need to get away once in a while. Sometimes families want to escape from the constant crush of demands on their time (school, work, sports, activities) and just have some time together. Sometimes it's the grownups that want to get away to enjoy some quiet time together and perhaps rekindle a spark in their relationship. But where can you get away to in the spring when the weather can be so unpredictable?
Here's a look at some spring getaways in Pennsylvania that may be just what you're looking for.
Great Getaways Just Outside Your Front Door
If you're looking for something different you don't have to look too far. There are plenty of fun and interesting things to do close to your Poconos home. Let's look at a few of the options for both kids/families and adults that are close at hand.
Fun Family Getaways
The Poconos region has an abundance of places for families with kids to enjoy fun times together—regardless of what the weather is like. And while the area is known for waterfalls, hiking, boating, and other outdoor activities, these facilities provide a wide range of options for family entertainment. And nobody will complain about getting wet!
Romantic Getaways for the Grown-ups
Sometimes the adults need a place that's designed specifically to meet their needs. That means quiet seclusion for relaxing, great food (that the kids might not appreciate), room amenities that allow guests to bask in comfort, and other adult activities such as massages, dancing, and even adult gaming at the tables. Here's a look at some of the options right in your backyard in the Poconos.
Get Out of the Poconos
As nice as it is to have fun places and activities close at hand, there is something special about getting out of your familiar environment and exploring new things. The good news is that in a relatively short time, you can be in places that are completely different than what you're used to every day.
Have Some Fun in Philadelphia
Philadelphia is just a two-hour drive from the Poconos—but it's a drive well worth taking. Philadelphia is full of American history, but seeing where things happened first hand is an experience your kids won't get from reading history textbooks. A great way to explore its unique role in the history of the nation is taking a Constitutional Walking Tour. Enjoy a 75-minute saunter through Independence National Historical Park that will take you to more than 20 of the most historic sites in Philadelphia. Among the historic sites are Independence Hall and the Liberty Bell, as well as the Betsy Ross House, the Declaration House, and the National Constitution Center. For more information—or to book your walking tour, click here.
If you love art, you won't want to miss the Philadelphia Museum of Art. The museum boasts a renowned collection of late-19th- and early-20th-century paintings, including masterpieces by Picasso, Duchamp, and Dalí. If you're still standing after that cultural onslaught, take the short walk to the PMA's sister institution, the Rodin Museum, for another round. This beautiful 1920s Beaux-Arts building is home to the largest Rodin collection outside of Paris, including the first bronze cast of The Gates of Hell and the sculptor's iconic statue The Thinker.
Dare to Step Across the Line
At the outset, we said we were going to focus on great getaways in Pennsylvania, but one of the wonderful things about living in the Poconos is that it's so easy to cross the State line and experience the wonders of New York City. Want to see a Broadway show? There are always plenty of shows running. Here's a site that offers both tours and tickets that will help you enjoy all Broadway has to offer.
Central Park is another one of the gems of New York City. It's part park, part museum, part concert hall, and all New York. Many of the city's most notable attractions (such as the Guggenheim, the Metropolitan Museum of Art and the American Museum of Natural History, to name a few) are situated next to it or within its limits. Click here for more details and to books tours and tickets. New York City is a great getaway for both families and couples!