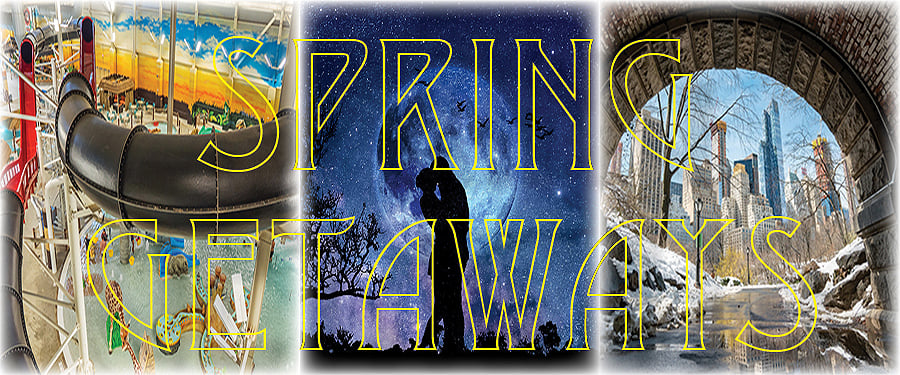 There's no doubt about it that the Poconos Region is a great place to live. But even if you're fortunate enough to live here you may still need to get away once in a while. Sometimes families want to escape from the constant crush of demands on their time (school, work, sports, activities) and just have some time together. Sometimes it's the grownups that want to get away to enjoy some quiet time together and perhaps rekindle a spark in their relationship. But where can you get away to in the spring when the weather can be so unpredictable?
Here's a look at some spring getaways in Pennsylvania that may be just what you're looking for.
Great Getaways Just Outside Your Front Door
If you're looking for something different you don't have to look too far. There are plenty of fun and interesting things to do close to your Poconos home. Let's look at a few of the options for both kids/families and adults that are close at hand.
Fun Family Getaways in the Poconos
The Poconos region has an abundance of places for families with kids to enjoy fun times together—regardless of what the weather is like. And while the area is known for waterfalls, hiking, boating, and other outdoor activities, these facilities provide a wide range of options for family entertainment. And nobody will complain about getting wet!
Kalahari Resorts
Kalahari Resorts is America's largest indoor water park, featuring 220,000 sq ft, filled with Wet. Wild. Fun. Admission to America's largest indoor water park is included for all registered guests when staying at Kalahari Resorts & Conventions. The whole family can enjoy the wave pool, the Lazy River, or one of the dozens of fun and fantastic slides. Families get their choice of a wide range of accommodations ranging from single rooms to suites. There is also an abundance of non-water activities including bowling, gaming, mini-golf and more. Click here for more information.
Camelback Resort Lodge and Aquatopia
Camelback Resort Lodge and Aquatopia Indoor Water Park offer your family the time of their lives with 13 of the most exciting and innovative water slides ever! Enjoy tube slides, body slides, mat slides, bowl slides, and aqua launch capsule slides as well as several kiddie-slides for even the youngest of thrill seekers! Families can enjoy climbing, laser tag, "not-so-mini" golf, a great arcade and even painting their own pottery. The Lodge offers 453 rooms in 16 various suite layouts, so you'll be sure to find the perfect option for your family. Click here for more information.
Great Wolf Lodge
Great Wolf Lodge encompasses everything a family could need for a family getaway. The resort not only offers an incredible indoor water park, but it also has gorgeous hotel accommodations, delicious food options and plenty of shops to explore. No need to check the forecast when you take a family getaway to Great Wolf Lodge Resort, it's always the perfect temperature inside the cozy confines of the lodge. In addition to the fantastic fun of the water park, the resort offers a host of activities including morning activities for kids, lunchtime activities, a Pajama Party, story time, and The Forest Friends show for the kids. Click here to check out more!
Romantic Getaways in the Poconos
Sometimes the adults need a place that's designed specifically to meet their needs. That means quiet seclusion for relaxing, great food (that the kids might not appreciate), room amenities that allow guests to bask in comfort, and other adult activities such as massages, dancing, and even adult gaming at the tables. Here's a look at some of the options right in your backyard in the Poconos.
The Inn at Birch Wilds
With just four guest rooms, The Inn at Birch Wilds in Jim Thorpe offers the perfect getaway spot if you crave peace and privacy. Rooms are designed for your comfort and offer gas fireplaces and luxurious beds with high-count linens. Some rooms offer rain forest shower heads or Jacuzzi or chromatherapy tubs. Other amenities include a library, free DVD movies, hot tub and indoor pool. The pool can even be reserved for private swim sessions with your partner or spouse if you wish. Your stay includes a gourmet breakfast served from 8:30 to 10 a.m. in your room or the dining room. Click here for more information on this B&B.
Cove Haven Resort
Cove Haven Resort offers a couples-only, all-inclusive Poconos Mountains escape were adults can relax in luxurious suites featuring cozy fireplaces, in-room pools, heart-shaped whirlpool tubs and more. Guests enjoy unlimited breakfast and dinners, indoor and outdoor activities and live entertainment every night. You can choose how to enjoy your stay—whether it's time alone time in your suite, exploring the grounds, taking a boat ride on the lake or enjoying a group activity. Your itinerary is up to you. Click here for additional information.
The Lodge at Woodloch
The Lodge at Woodloch lets you feel like you are getting away to your own private country estate. Guests enjoy a quiet wing where guest rooms and suites offer the simple luxuries and warm comforts they'd expect at an AAA Four-Diamond award-winning resort. The Lodge embraces a philosophy of personal awakening and offers guest the opportunity to shift from the pace of everyday routine and re-focus on themselves and each other. Click here to discover more information!
Stone Lake Inn
Stone Lake Inn is another adults-only retreat—but this one is built around a more intimate and historic setting. The inn is a restored historic property from the 1800s that offers four guest rooms (two suites) and sits on six acres of beautiful country property that features a private lake, swimming, fishing, biking, boating, and complimentary breakfast. Click here for more information about this idyllic setting.
Mount Airy Casino & Resort
Mount Airy Casino & Resort offers a getaway with plenty of activity. In addition to fantastic rooms, the resort offers a spa, great dining, and a world-class casino where adults can play to their heart's content. There's also Gypsies Nightclub for late-night drinks (10 pm to 2 am) and top-notch entertainment including acts such as Grand Funk Railroad, Tracy Morgan, Earth, Wind & Fire, and more! Click here for additional information.
Pennsylvania Getaways Outside the Poconos
As nice as it is to have fun places and activities close at hand, there is something special about getting out of your familiar environment and exploring new things. The good news is that in a relatively short time, you can be in places that are completely different than what you're used to every day.
Have Some Fun in Philadelphia
Philadelphia is just a two-hour drive from the Poconos—but it's a drive well worth taking. Philadelphia is full of American history, but seeing where things happened first hand is an experience your kids won't get from reading history textbooks. A great way to explore its unique role in the history of the nation is taking a Constitutional Walking Tour. Enjoy a 75-minute saunter through Independence National Historical Park that will take you to more than 20 of the most historic sites in Philadelphia. Among the historic sites are Independence Hall and the Liberty Bell, as well as the Betsy Ross House, the Declaration House, and the National Constitution Center. For more information—or to book your walking tour, click here.
If you love art, you won't want to miss the Philadelphia Museum of Art. The museum boasts a renowned collection of late-19th- and early-20th-century paintings, including masterpieces by Picasso, Duchamp, and Dalí. If you're still standing after that cultural onslaught, take the short walk to the PMA's sister institution, the Rodin Museum, for another round. This beautiful 1920s Beaux-Arts building is home to the largest Rodin collection outside of Paris, including the first bronze cast of The Gates of Hell and the sculptor's iconic statue The Thinker.
Dare to Step Across the Line
At the outset, we said we were going to focus on great getaways in Pennsylvania, but one of the wonderful things about living in the Poconos is that it's so easy to cross the State line and experience the wonders of New York City. Want to see a Broadway show? There are always plenty of shows running. Here's a site that offers both tours and tickets that will help you enjoy all Broadway has to offer.
Central Park is another one of the gems of New York City. It's part park, part museum, part concert hall, and all New York. Many of the city's most notable attractions (such as the Guggenheim, the Metropolitan Museum of Art and the American Museum of Natural History, to name a few) are situated next to it or within its limits. Click here for more details and to books tours and tickets. New York City is a great getaway for both families and couples!
Enjoy a Little Shopping and History
Quaint and quirky New Hope on the banks of the Delaware River is the ideal place to visit if you want to get away from home without spending hours on the road. Just over 1 ½ hours from the Poconos, the town's tree-covered streets are lined with restaurants and unique shops that sell gifts, jewelry, antiques, artwork, comic, home décor, collectibles, gourmet olive oil, soap, candy and accessories. You'll find even more shops and restaurants just across the river in Lambertville, NJ.
If you're in town for a few days, you may want to catch a performance at the Buck County Playhouse on South Main Street or enjoy the scenery at the Delaware Canal State Park.
The New Hope area offers plenty of historic bed and breakfasts, including the Aaron Burr House, Bridgeton House on the Delaware, the Fox & Hound, Golden Pheasant Inn and Pineapple Hill and Bed Breakfast. These B&Bs have been lovingly restored yet offer thoughtful modern amenities.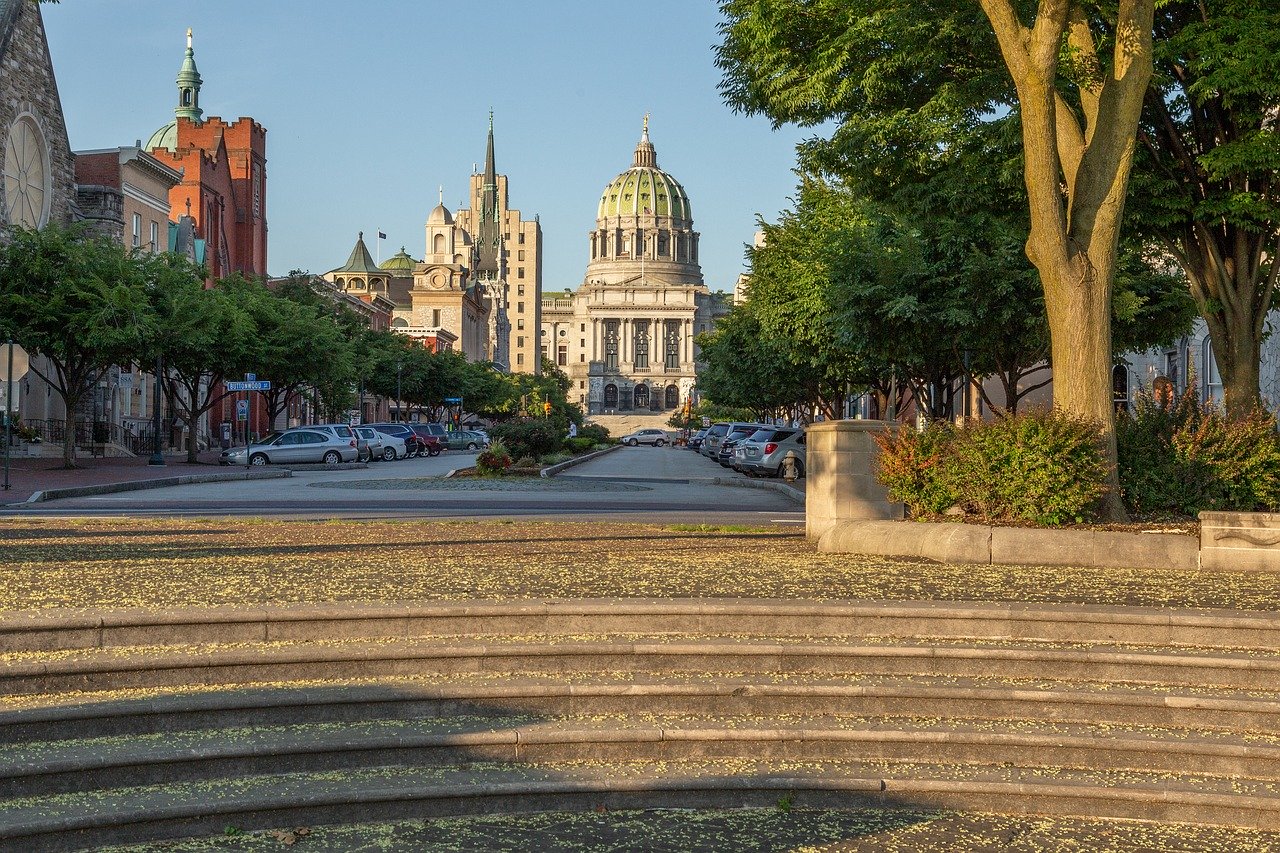 Explore the State Capital
Harrisburg is much more than the center of government for the state. This mid-sized town offers a diverse assortment of activities sure to make your spring getaway particularly memorable. If you're an architecture or history buff, you may want to make time for a self-guided or guided tour of the Capitol building during your stay. Built in 1906, the building incorporates Renaissance touches throughout its five stories.
Depending on the weather, your itinerary may include a trip to a local museum or art gallery, kayaking or boating on the Susquehanna River, hiking the trails at Wildwood Park, or enjoying a little retail therapy in downtown Harrisburg. City Island, located in the middle of the Susquehanna, is the home of the Harrisburg Senators Baseball team and the location of many fun activities, including a miniature golf course, the Pride of the Susquehanna Riverboat, playgrounds and batting cages.
Hersheypark, located just 30 minutes from Harrisburg, offers rides and attractions for the entire family. New this year is Candymonium, billed as the fastest, tallest, longest roller coaster in the park. Stay at the chocolate-themed Hershey Lodge while you're in the area and book a stay at one of the many Harrisburg area hotels.