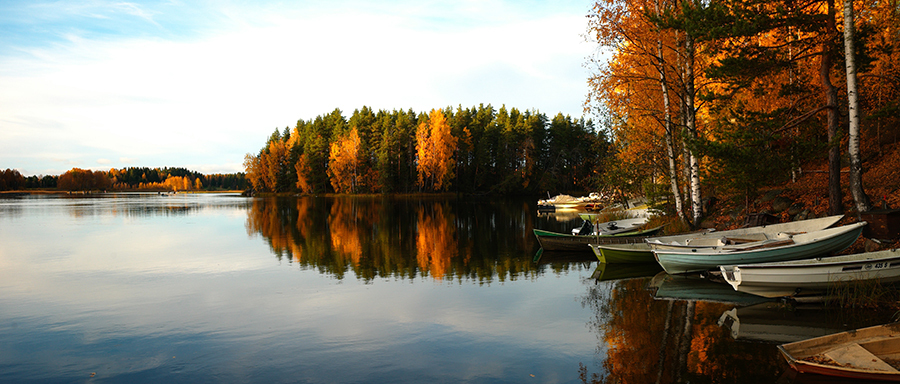 If you live in New York, New Jersey, or Philadelphia, a trip to the beach may mean "going down the shore." And as much fun as the Jersey Shore can be, there's another way to enjoy sand and water in the summer—without the crowds. That's why we'd like to offer you a look at some of the best lakes and beaches in the Poconos.
You may already know the Poconos as a "Water Wonderland." After all, people come from all around to enjoy the rivers, streams, and waterfalls. But you won't want to overlook the lakes (and beaches) in the region.
Gouldsboro Lake
Goldsboro Lake stretches across Monroe and Wayne Counties. It's a 250-acre man-made lake that is a favorite destination for boating, swimming, fishing and even ice-fishing in the winter months. And while gas-powered boats are prohibited on Gouldsboro Lake, electric powered and non-powered boats with current registration are allowed. The beach at the lake is open from Memorial Day weekend through Labor Day weekend. Gouldsboro Lake is a warm water fishery offering pickerel, yellow perch, bass, walleye, sunfish, muskellunge, and catfish.
Lake Wallenpaupak
This lake is the third largest lake in the entire state of Pennsylvania—measuring 52 miles of shoreline, 13 miles in length, 60 feet deep at points, and has in excess of 5,700 acres of surface water. The lake was originally created by the Pennsylvania Power & Light Company in 1926 for hydroelectric purposes and flood control. These days, however, it's one of the most popular recreational destinations in the Pocono Mountains. It is located near Hawley and forms part of the boundary between Pike and Wayne counties.
Mauch Chunk Lake Park
Mauch Chunk Lake (and Park) is located on the outskirts of historic Jim Thorpe (originally known as Mauch Chunk). The park is a favorite getaway for families that may want to rent a boat and enjoy the views on Mauch Chunk Lake. While there, visitors can also walk or bike the switchback gravity railroad or simply relax and unwind on the park's sandy beach.
Beltzville State Park Beach
You can enjoy the 525-foot sand beach at Beltzville State Park from late-May to mid-September. Lots of people enjoy swimming at the beach, but swimming is "at-your-own-risk" in the park—meaning no lifeguards are on duty. You'll find a bathhouse with showers near the beach. If you get hungry, a food and refreshment concession at the swimming beach is open daily (weather permitting) from Memorial Day to Labor Day. The lake is a great Poconos boating destination! P
Brady's Lake
Brady's Lake is another great Poconos lake. This 223-acre body of water is perfect for fishing and canoeing. If you're fishing, you can expect to catch a variety of fish such as Bluegill, Largemouth Bass, Pumpkinseed, Smallmouth Bass, and Yellow Perch. The lake shores are also wooded and teaming with wildlife! Definitely give this tranquil watering hole a visit when you can!
Lake Naomi
Lake Naomi is a Poconos recreational community located in northeastern Pennsylvania. The heart of this resort community is the 277-acre lake that hosts boating, fishing, sailing, and other water activities. The community is perfect for a vacation home or single-family home for residents interested in a relaxed lifestyle. In addition to the lake the community offers: Two Outdoor Olympic Size Swimming Pools (including the Largest Heated Pool in PA!); A 9-Hole Private Golf Course; The #1 Rated Tennis Center in Pennsylvania; A 48,000 Square Foot Community Center with an indoor pool, an indoor fitness center, and indoor tennis.
Arrowhead Lake
Arrowhead Lake offers you 350 acres of beautiful open water for you to enjoy. But the community around the lake has even more amenities including 3 Heated Swimming Pools; 7 Tennis Courts; 4 Beaches; 5 Boat Launches; 2 Basketball Courts; Picnic Facilities including Tables and Grills; A Fitness Room; A Billards Room; Computer Stations; and a shared Library.
Lake Harmony
Lake Harmony is a natural glacial lake in Kidder Township, Carbon County that empties out into the Tobyhanna Creek, which then flows northwest into the Lehigh River. The village adjacent to the lake is also called Lake Harmony. This location is known as a great place for outdoor adventure all through the year—whether you enjoy snow sports. Watersports, or thrilling NASCAR action at the "Tricky Triangle." There are plenty of family activities in the area, ranging from pony rides to paintball games.
Stillwater Lake
Stillwater Lake— located at an elevation of 1,811 feet in Pocono Summit—covers an area of 0.5 square miles and is It's fed by Hawkeye Run, Pocono Summit Creek, Dotter's Run, and numerous underground springs. From the late 1880s until the 1930s, the region was well known for its thriving ice industry as the ice was being harvested from the local freshwater lakes. These days, Stillwater Lake offers a quiet weekend getaway in nature (jet skis and power boats are not allowed on the lake). Camp Minsi, a Boy Scout camp located on the shores of Stillwater Lake, provides sailing, swimming and fishing opportunities for the hundreds of scouts who visit the lake every year.
Smithfield Beach
Smithfield Beach is located on River Road about seven miles north of the town of Delaware Water Gap, PA, and offers a grassy beach that includes picnic areas, restrooms, a boat launch, a canoe launch, and access to the Joseph M. McDade Recreational Trail. The park provides three beaches with lifeguards for safe swimming in the Delaware River. Lifeguards are on duty on the weekends from mid-June through August. Picnic and restroom facilities are also available at the beaches. Grills are not provided, but personal grills are permitted. Alcohol and pets are not permitted. (Directions to Smithfield Beach)
There are more than 150 lakes in the Poconos Mountains. You can explore the ones mentioned here for starters and then branch out to discover even more of what the Poconos region has to offer. If you love visiting lakes and beaches in the Poconos, you'll love living here! You can even find a lakeside property on which to build in Arrowhead Lakes Community, Locust Lake Village, Towamensign Trails, or Lake Naomi (pictured above).