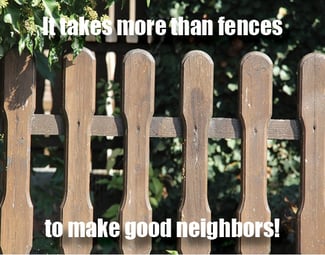 There's an old saying that "fences make good neighbors." That may well be true, but here in the Poconos we think there's more to the story than that. If you're considering building a new home in the region, paying attention to who different neighborhoods is essential!
One of our neighbors here in the Poconos isn't even a person—it's a community! Pocono Manor is an unincorporated community in Monroe County. It's a gorgeous area comprised of more than 60 homes and 150 lots.
The community even has it's own historic district! Pocono Manor Historic District is a national historic district located in Pocono Township and Tobyhanna Township encompassing 75 contributing buildings, one contributing site, four contributing structures, and four contributing objects on the historic resort of Pocono Manor.
If you're looking for something that represents the Poconos history as a resort destination, you need look no further. Wikipedia reports that, "The resort community was established in 1902, and includes an Inn, recreational complex, and dependent cottage community. The cottage community was originally developed by Quakers and the cottages reflect popular early-20th-century architectural styles including Stick/eastlake, Shingle Style, and Bungalow / American Craftsman. The Pocono Manor Inn was built in nine sections between 1902 and 1949.It was added to the National Register of Historic Places in 1997."
Poconos Manor, however, isn't just about the past. The Inn at Pocono Manor proudly carries on the resort tradition of the area. In addition to 240 guest rooms and suites that are decorated in the period style of this century-old hotel (but provide all the modern comforts of home), guest have their choice of an abundance of activities at any time of year. Here's a quick look at the seasonal activities available to you as a guest.
WINTER: whether you're looking to have a cozy relaxing getaway or a fun filled snowy adventure, this is the place to be. Come build a snowman or two, enjoy treatments at our luxurious spa or book one of our great ski & stay packages.
Pond Ice Fishing

Horse Drawn Sleigh Rides

Ice Skating

Horseback Winter Trail Ride

Snow Shoeing

Cross Country Skiing

Sledding

Trap Shooting

Archery

Snowmobiling
SPRING: If you're looking to break free of your winter blues, a refreshing getaway to the heart of the Pocono Mountains may be just what the doctor ordered. Whether you're looking to relax at Laurel Spa, break out those new clubs at our Golf Course or experience outdoor adventures there's a little something for everyone.
Pond Fishing

Mountain Biking

Golfing

Indoor Basketball

Guided Golf Cart Tours

5-Stand Shoot

Recreational Biking

Hiking and Walking trails

Horseback Riding

BB Gun Range

Indoor Tennis

Trap Shooting

Archery
SUMMER: Whether you prefer to relax and read a book or seek plenty of action, you can find it here. Summer activities include:
Pond Fishing

Golfing

Mountain Biking

Horseback Riding

White River Rafting

Tennis

Archery

Basketball

Hiking

Volleyball

BB Gun Range

Trap Range
FALL: During the whole month of October you'll have opportunities to celebrate everything you love about Fall. Enjoy pumpkin picking at Manor Pumpkin Patch (, Horseback Trail Rides and Guided Nature Hike through the fall foliage, outdoor activities, petting zoo, bonfires with hot cider, s'mores and so much more!
Mountain Biking

BB Gun Range

Guided Fall Foliage Hikes

Horseback Riding

Fly Fishing

Trap Shooting

Lawn Games

Golfing

Archery

Outdoor Fire Pit

Manor Pumpkin Patch (October only)
As we've mentioned before, the Poconos really is a region for all seasons. There are always great things to do and see—right in your own backyard. And if you want to have a little bit of summertime fun even in the heart of winter, you can do that at the nearby Kalahari Resorts and Conventions, which will soon be the largest indoor water park in the United States. At their indoor water park you can splash and play in the water to your heart's content regardless of what the weather is doing outside!
Fences may make good neighbors in some places, but in the Poconos, we prefer neighbors that offer great sights and activities. It's just one more reason why discerning homeowners come to visit—and end up staying here to live!