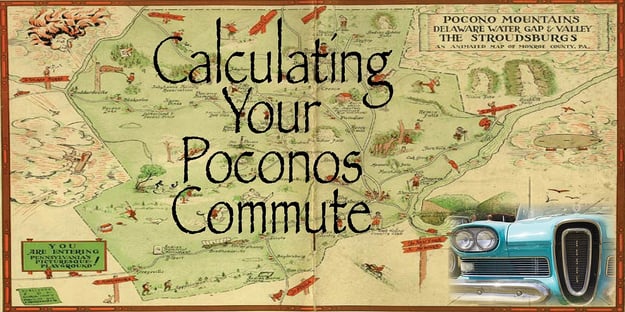 When most people think of life in the Poconos they think about a place where they can get away from it all and enjoy the adventures of living in a less urban area. There are times, however, when Poconos residents do need to get to surrounding towns and cities—for work, for visiting families, or for other reasons. The good news is that you can get there from here . . . and to be honest, it doesn't take all that long.
Here's a look at commute times from the Poconos Mountains to significant cities and towns in the area.
Allentown, PA 48 miles 52 minutes via PA-335
Harrisburg, PA 127 miles 1 hr 56 minutes via I-80W / I81S
Newark, NJ 81 miles 1 hr 21 minutes via I-80E
New York, NY 90 miles 1 hr 43 minutes via I-80E
Philadelphia, PA 108 miles 2 hrs 2 minutes via I-476S
Scranton, PA 34 miles 34 minutes via I-380N
Stroudsburg, PA 17 miles 17 minutes via I-80 E
Trenton, NJ 99 miles 1 hr 54 minutes via PA-33S
Wilkes-Barre, PA 39 miles 50 minutes via PA-115N
If you don't feel like driving yourself, there is bus service available through Greyhound Lines and Martz Trailways that can get you to New York or any number of places in the region.
If you need to fly out of the Poconos, you have a number of options in the area as well.
Wilkes-Barre/Scranton Airport (AVP) is 24 miles away
Newark International Airport (EWR) is 69 miles away
La Guardia Airport (LGA) is 82 miles away
Philadelphia International Airport (PHL) is 115 miles away.
And while it isn't currently available, there is still discussion of bringing back regular rail service to the Poconos that will make commutes to New York and other areas much easier.
That's just one more advantage to living in the Poconos: You can choose a lifestyle that lets you get away from it all—and still get back to it if you need to!