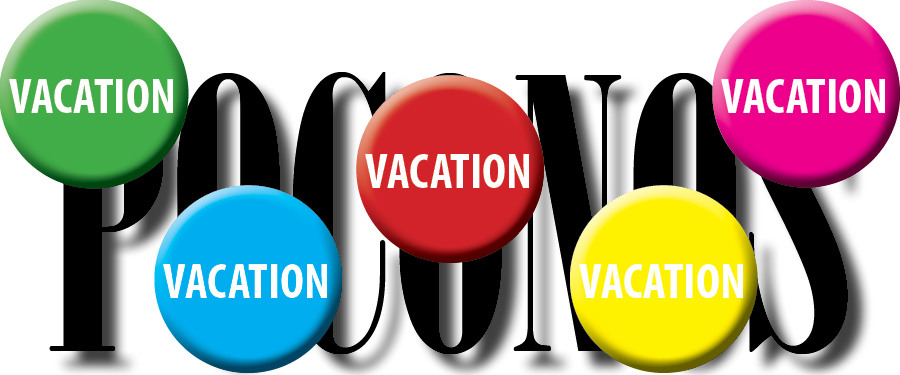 There is a good reason that so many people have come to the Poconos for vacation for so many years. There are simply so many options from which to choose; whether you're looking for a resort vacation, a rustic camping experience, or something in between. Here's a look at some of the best vacation spots in the Poconos.
Family Friendly Resorts
If you're looking for a resort vacation for your family, you can choose from a number of great destinations.
Skytop Lodge
Skytop Lodge sits on 5500 mountaintop acres and for almost 90 years has been the Crown Jewel of Poconos Resorts since its inception in 1926. This property has received top ratings by Travel & Leisure, Golf Digest, Wine Spectator and many other publications that describe it as "heavenly, majestic, elegant and awesome." It combines old world charm and character, plus a timeless attention to detail, impeccable service, modern conveniences and amenities, and, most of all, a feeling of complete and utter relaxation.
Fernwood Resort
Fernwood Resort is another family favorite—located in the Delaware River valley, just north of the Water Gap and the Shawnee area. While it's on a smaller scale and doesn't have as many amenities as some of the other family-oriented resorts in the Poconos, it is more affordable. Many families use Fernwood as a "jumping off" base for activities in the Delaware Recreational Area and the local attractions surrounding the Shawnee area.
Great Wolf Lodge
The Great Wolf Lodge offers a unique experience for families. With an enormous indoor water park, it provides families fun-filled, water-based excitement 365 days a year. You can check out details on a number of other Poconos water parks here.
County Fairs
There is always something going on in the Poconos region! Here are just a couple of the country fairs you can catch this summer.
Going on strong for 15 years, the Carbon County Fair runs through the first week in August and offers Agricultural exhibits, amusements, rides, music and good old fashion fun for the whole family
The annual County fair for Wayne County Pennsylvania held at the Honesdale Fairgrounds each year features all the traditional features of a country fair including livestock, amusement rides, entertainment venues, music, and fireworks.
Get Outdoors
One of the best things the Poconos has going for the area is all the great things you can do outdoors. Check these activities out!
Up, Up, and Away!
If you'd like to get a different perspective of the Poconos—to see it like you've never seen it before—you may want to go up, up, and away with a skydiving excursion! Whether you're a seasoned jumper or you're taking your first jump, the folks at Sky's the Limit Skydiving Center can help you enjoy the experience—and see the Poconos like you've never seen them before. Click here for more information about how you can take off for the skies!
Bike, Hike, and Paddle
Looking for a full day that's packed with outdoor activity and fun? The Big Day Out at Pocono Whitewater offers that experience most weekends from April through October. Your day will start with an incredible mountain bike ride between the 1,000 foot walls of the Lehigh Gorge Rail-Trail to the famous Glen Onoko. Then you'll hop off your bike and onto your feet with a scenic hike to an abandoned railroad tunnel offering you beautiful overlooks of the Lehigh River. Then it will be time to man the oars for whitewater rafting through the bends and rolls of the Lehigh River.
"The Niagara of Pennsylvania"
No trip to the Poconos would be complete with a visit to Bushkill Falls, the so-called "Niagara of Pennsylvania." Bushkill Falls is no ordinary waterfall. Watch from bridges or wooded hiking trails as eight roaring falls cascade over time worn boulders. The trails there offer you a simple stroll through the woods or a challenging hike. It's your choice.
Take It To the River
Maybe you're looking for some outdoor activity that's a little slower-paced. Shawnee River Trips gives you a number of ways to explore the Delaware River. You can choose from a 3, 6, or 10-mile trip down the Delaware River and take your pick of a canoe, raft, kayak, or river tube. They also offer a "Twilight Paddle" that let's you paddle around the river as the sun sets and then head to the campfire to enjoy s'mores. They even have overnight camping trips (1 or 2-nights). Click here for additional information.
Skirmish USA
If you're looking for a little extra action, check out Pocono Paintball at Skirmish USA. It's an ideal setting to test your non-mortal combat skills and blow off some steam. Home to 700 acres of streams, fields, forests, cityscapes, and more, this paintball experience is one you will never forget!
Put a Little ZIP in Your Life!
If you haven't tried zip lining in the Poconos, you don't know what you're missing! Whether you're zipping through the trees—or flying high and fast (at speeds of up to 35 mph) above them, there's nothing quite like the zip line experience. There are numerous places to choose from throughout the Poconos. Click here for information about four of the best places to try this incredible activity.
Make History Come Alive
Your kids may not believe it, but this region was once known as the "Frontier"! Historical events such as the American Revolution, the Civil War, and the Industrial Revolution imprinted themselves on the area and left an important legacy. Here are just a few examples:
This renowned landmark in Milford, PA was the ancestral vacation home of the Pinchot family and the birthplace of the US Forest Service as well as America's Conservation movement. Now owned and operated by the US Forest Service, Grey Towers is a national treasure that is open to the public throughout the year.
Grey Towers is now owned and operated by the US Forest Service and is a national treasure that is open to the public throughout the year. The property also provides a lens into the lifestyle of turn of early American aristocracy.
Railroads played a huge role in developing the Poconos region—and the entire United States. On August 8, 1829, the first locomotive in America to run on a railroad was the original Stourbridge Lion (built in 1828 in Stourbridge, England). A full-scale replica was built in 1933 for the "Century of Progress Exposition in Chicago. This replica is on display and makes its home at the Wayne County Historical Society & Museum in Honesdale. That's just one of the many links to the Poconos past you'll find here.
Discover how the unique geological formation of coal in prehistoric times impacted the present day town of Jim Thorpe, Pennsylvania. The lush, mountainous landscape inhabited by the Lenape Indians was forever changed by the discovery and mining of "black diamonds" (anthracite coal) by early European settlers and their subsequent scramble to build waterways and railroads to transport coal to the eastern seaboard cities. Determination and ingenuity gave rise to industrial marvels such as the unique Switchback Gravity Railroad while the settlement of Mauch Chunk grew and flourished in its Victorian golden age.
Rediscover why the Poconos Mountain region is an all-seasons destination. The only thing better than visiting is if you lived here year-round!