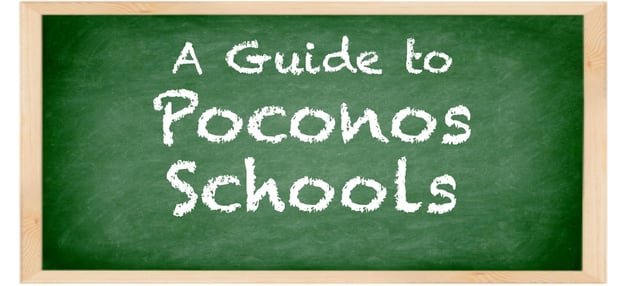 If you have school-aged children and are thinking about building a new home in the Poconos, there's little doubt that the schools in the area will be high on your list of important considerations. Here's a guide to Poconos schools that will provide you with some of the essential information you'll need to know.
The Pocono Mountain School District (PMSD) is the largest and most diverse school district in northeast Pennsylvania. The district serves some 55,000 people in an area of more than 300 square miles. PMSD isn't limited to a single community. It serves seven different municipalities (Barrett, Coolbaugh, Jackson, Paradise, Pocono, Tobyhanna and Tunkhannock) and one borough (Mount Pocono) in the area.
The district is comprised of two sides. The East side of the district serves the townships of Jackson, Pocono, Paradise, Barrett and Mount Pocono Borough. The West side of the District serves Tobyhanna, Tunkhannock, and Coolbaugh Townships.
To promote increased student achievement, Pocono Mountain School District has developed rigorous and comprehensive curriculum that is aligned to Pennsylvania State Standards in all core content areas. Please click here for a look at the district-wide Elementary Curriculum in areas that include: English Language Arts; Health; Mathematics; Music; Physical Education; Science; Social Studies; and Computers & Technology.
Students in grades 7 through 12 participate in a challenging, rigorous curriculum, enriched by the district's instructional resources and highly qualified instructional staff. Click here to take a look at the secondary curriculum that covers: Art; Business Tech & Computer Programming; English Language Arts; Family & Consumer Sciences; Health; Mathematics; Music; Physical Education; Science; Social Studies; Technology & Engineering; and World Languages.
If you'd like information specifically for parents, please click here.
For a closer look at the specific schools in the district, please click on the links below:
Pocono Mountain School District is a strong academic community where students build confidence to be college and career ready. Each of the schools adheres to the district's rigorous and comprehensive curriculum: one that is cognitively demanding and challenging to students as they apply the essential concepts and skills to real-world, complex and open-ended situations.
Parents who have additional questions that aren't addressed by the online sources listed above are encouraged to contact Dr. Catherine Sweeney, Assistant Superintendent of Curriculum and Instruction, at csweeney@pmsd.org.
The educational opportunities for your children are every bit as important at the location of your new home in the Poconos, and the specific floor plan you choose for your family's new home.