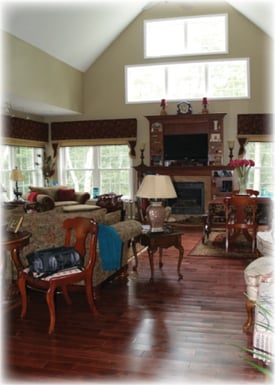 Over the last several years, the whole Great Room Concept has become increasingly popular. Homeowners and their guests like the casual feel of an open design that lets them move freely from one room to another. And many people love how an open floor plan allows more natural light into a room. For some, however, this style takes a bit of adjustment. Here are some tips for making the Great Room in your Poconos home even greater.
Bring Your Outdoor Space Indoors:

One of the big reasons that many people come to the Poconos in the first place is because of the great scenery. Take advantage of that in your Great Room by choosing a design that has the Great Room backing up to your deck. Incorporate sliding glass doors and windows to take advantage of what's outside. Then even if the weather isn't optimal you can still feel like you're outdoors.
Define Your Space:

A huge part of the Great Room concept is that the kitchen is open to the dining room and the Great Room. But it's important to define these spaces so that you preserve the openness and respect the character of individual spaces. You can do this with your flooring, with area rugs, or with subtle shifts in wall color. (By the way, if you're trying to decide on which flooring will work best for your new home,

here's a helpful post

)
Let Your Lights Shine

: Great Rooms, by nature, tend to be large and often have higher ceilings. Simply sticking a few lights in the ceiling won't give you the ambience you want. While you'll want some overhead lighting (it's nice to flip a switch when you walk into a dark room at night so you don't trip!), complement that with pendant lights or chandeliers, wall sconces, and floor or table lamps. Bear in mind that many people have their television in the Great Room, so you'll want to be able to adjust your lighting for optimal TV viewing.
Keep Things Cozy:

In the summer months, it's nice when things are airy and open. But in the winter months the sheer size of a Great Room can make it seem cold. Using warmer colors on the ceiling, or incorporating wood into the ceiling design can visually warm things up and make the room feel cozy.
Great Rooms are a great concept. We'd love to work with you to create a home with an open floor plan that looks and feels great!