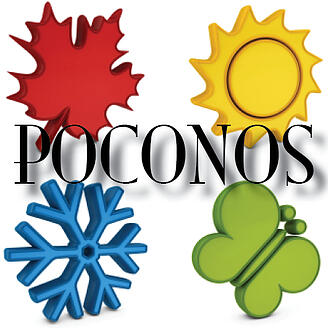 "Any time of year is a good time to visit the Pocono Mountains in Pennsylvania." That's a pretty bold statement! Maybe you're tempted to respond with, "Says, who?" It turns out that quote came from Frederica Dunn of the Washington Times.
Those of us who live here know that the Poconos have a lot to offer—at any time of year—but what is it about this area that got a writer from the Washington Times so excited?
As you might guess, Dunn cites the area's close proximity to many major East Coast cities—making it convenient to get away to enjoy some peace and quiet. Of course, the opposite is true as well. Individuals who choose to live here have easy access to what the larger metro areas have to offer.
Of course, Dunn commented on the "rolling mountains, beautiful waterfalls, thriving woodlands, and 170 miles of winding rivers and 163 ski trails." And she talked about how in the summer and fall that the region offers 35 golf courses (which have challenged many a golf legend, including Arnold Palmer, Tommy Bolt and Sam Snead), abundant swimming, hiking, biking, rafting, and fishing opportunities.
Naturally, the fun doesn't end when the weather gets cold. That's when the chances for cross country skiing, downhill skiing, snowboarding, snowshoeing, tubing, and "delightful sleigh rides in the woods" are all around.
Dunn raved about the fall season as well, describing a "leisurely horseback ride on trails through the woods," where she could enjoy the colorful fall foliage and the fantastic weather.
On top of that, there are plenty of historic sites to visit—and quaint, colorful inns and great restaurants to explore, including the Hotel Fauchere/Bar Louis, the Broadway Grille, and the Cocoon Coffee House where you can enjoy atmospheres that ranges from causal dining to a hip downtown vibe.
With all of these great opportunities available all year long, you might wonder why anyone would ever want to leave. The good news is: You don't have to. The Poconos are a great place to live year-round! Right now there are some great properties available for building in the Poconos. And in addition to that, you can find some fantastic home designs that will enable you to build your dream home in a dream location.
Any time is a great time to visit the Poconos, but why settle for that when you could actually live here all the time? We'd love to help you do just that!
BTW, You can read Frederica Dunn's complete article here.