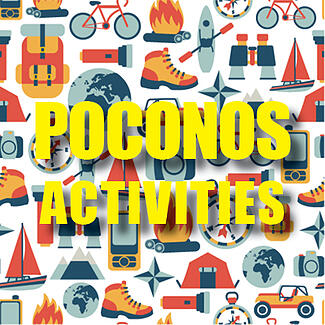 A lot of people move to the Poconos because they love the views: Trees, streams, waterfalls, and rolling mountains. There's no doubt about it, it's a beautiful area.
Others' come here for the quiet, seclusion, and slower pace. It's a great place to escape the hectic pace of the city and suburbs.
Of course, once people end up here, they find out that there is a whole lot more to enjoy than simply sitting in the peace and quiet of their home and enjoying the view. The Poconos offer a broad palette of activities that appeal to a wide range of interests. Here are just a few of the many things your can do in the Poconos Mountains region.
Big Pocono State Park
is located in Monroe County in northeastern Pennsylvania, encompasses more than 1,300 acres of rugged terrain on the summit and slopes of Camelback Mountain, and features scenic views of three states. Activities include: picnicking, hiking, mountain biking, horseback riding, and downhill skiing in the winter on 3 trails, serviced by 13 lifts including two high-speed, detachable quads. You'll also find two half-pipes, two terrain parks, night skiing and 100% snowmaking.
Delaware & Hudson Canal
is a 108-mile waterway that was completed in 1828. Barges carried coal between Honesdale and the Hudson River. Visitors can stroll, run, or bike along the D&H Canal's towpath—originally a path for mules to pull the canal boats. During the summer children ages 9–13 can learn about the environment around them through the "Backyard Biology" program. For younger children the "River Readings" program explores nature through stories and crafts.
Mauch Chunk Lake Park
is located in the Boroughs of Jim Thorpe and Summit Hill. A popular vacation destination for many families, the park has facilities for camping, swimming, picnicking, hiking, biking, fishing, and boating. For reservations or information call 570-325-3669 or email mauch2@ptd.net
Pocono Adventures Riding Stable
The Pocono Adventures Riding Stable offers great trail riding for beginners and more seasoned riders as well. It's a perfect way for horse enthusiasts to spend a Sunday afternoon! There address is on Meadowside Road in Mount Pocono, PA.
Pocono Whitewater Adventures
Poconos Whitewater Adventures offers great family rafting, trail biking and even paintball! It's fun for the whole family! Check them out at 1519 State Route 903, Jim Thorpe, PA 18229-2770. You can also call them at 570-325-3655 or 800-WHITEWATER!
Pocono Raceway
Discover one of NASCAR's most famous tracks—right in the heart of the scenic Pocono Mountains. The unique, triangular shape of the Pocono Raceway distinguishes it from all others, making it a favorite among racing enthusiasts. This attraction located in Long Pond, PA is sure to be a memorable experience for you and your family!
The Town of Jim Thorpe
Voted one the top 10 best small towns in America, the so-called Switzerland of America is a quaint town that's rich with architectural diversity and occasionally, a New Orleans kind of look and feel. The old railway station is certainly reminiscent of Switzerland!
All-Terrain Pinzgauer Tours

Ride over rugged terrain, explore hidden lakes, enjoy expansive vistas and search for ancient fossils in a high mobility 4x4 or 6x6, all-terrain military vehicle that provides adventure seekers of all abilities access to normally unreachable, limited access or unexplored terrains. You can reach All-Terrain Pinzgauer Tours at http://www.visitpa.com/pa-family-fun/all-terrain-pinzgauer-tours. There address is 7 Hazard Square, Jim Thorpe, PA 18229. You can also call them at 855-386-6337!