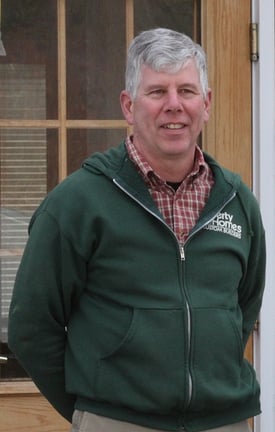 Building custom homes is a very personal business. That's because a custom home isn't some commodity. It's much more than a property and plans and materials. It's a place for you and your family to live comfortably and securely and build memories. And that's why you don't just deal with a company when it's time to build your home—you interact with the people that make up that company.
We'd like to introduce you to one of the people behind the places we build at Liberty Homes. Three partners began Liberty Homes in 1978, including Frank Repholz Sr., whose son Frank Jr. worked as a framer, then operated his own framing crew, and eventually moved up to superintendent. In 1994 Frank Jr. and his partner John Holahan III bought the business from Frank's father.
An active member in the community, Frank serves on the Planning Commission for Thornhurst Township and was recently recognized for his work with Habitat for Humanity. He spends most of his Saturday's volunteering with Habitat (where Liberty Homes has managed many of their building projects). Many of Liberty's employees and trade partners have also given of their time to help on these as well. Frank is a good friend to many and consistently provides assistance to friends and customers alike.
Frank is often a behind-the-scenes kind of guy. That means he's not always the one receiving awards and commendations, but generally a big reason for the success of others.
Frank is well versed in many trades and works on all aspects of a home's production. He is actively involved in the selection of sub-contractors, materials, and vendors. He also plays a critical role in the scheduling process and keeps the jobs moving to completion.
Frank is a true local and lives in Thornhurst with his wife, Eileen while his mother lives in a neighboring house. We'd love to have you stop in to meet Frank, but you better make an appointment or be here early if you want to catch him in the office!