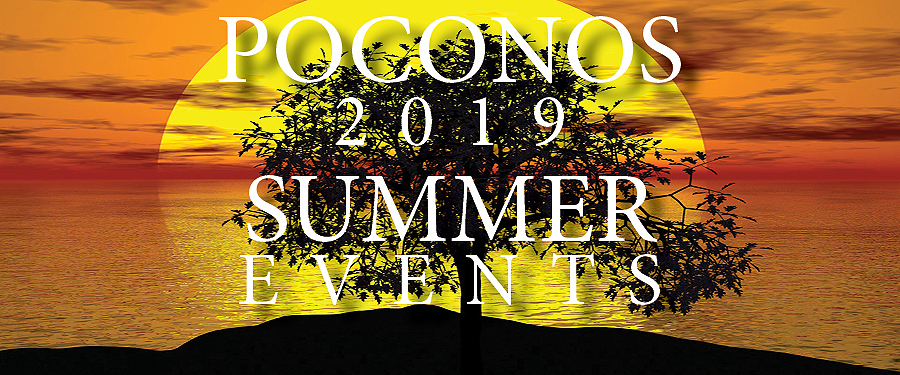 Looking for some summer fun in the Poconos? There are plenty of activities from which to choose. Here's a look at some of the best 2019 Summer events in the Poconos.
Wine Me Up! Wine & Tapas Festival
Spend the weekend pairing wine and food with a breathtaking view at Blue Mountain Resort's annual Wine Me Up! Wine & Tapas Festival. This weekend will showcase Pennsylvania wine, rain or shine. Unlimited wine samples will be paired with tapas by Blue Mountain's culinary team. There will be live entertainment and unique vendors. Ages 21+. Check their website for additional information or to purchase tickets.
The Honesdale Roots & Rhythm Music & Arts Festival
Join the celebration of the 14th annual Honesdale Roots & Rhythm Music & Arts Festival— on June 15, 2019. This is Honesdale, PA's, annual FREE music and arts event, and the committee has been hard at work since last July, continuing their efforts to support the community and surrounding area by delivering this fun family event. This includes games for youngsters and entertainment for all ages. A variety of FREE musical talent will perform throughout the day and evening all around historic Honesdale's Main and Church Street areas. Spend the morning and early afternoon listening to live bands downtown. Move to Central Park for a FREE concert featuring nationally known acts, as well as an array of artisans, and food vendors. Free parking throughout town all day. Visit their website for additional information.
Shawnee Fireworks Display
Shawnee Mountain Ski Area is holding its annual Independence Day Celebration and Fireworks Display, on Friday, July 5, 2019. The event benefits the Shawnee Volunteer Fire Company. Bring your own chair or blankets for great slope-side seating. There will be an outdoor DJ, Uncle Sam Stilt Walker, Mark Clark's "All American Magic Show" and various food vendors. You can also take advantage of a delicious Hickory Licks barbecue. The fireworks display will begin at dusk, between 9:00 pm - 9:30 pm, and are presented by the Interstate Fireworks Display Company. There is a $15 charge per vehicle for parking, but 100% of parking proceeds benefit the Shawnee Volunteer Fire Company. Click here for more information and directions.
Summer Garden Party & Tour Season Kick-Off
Quiet Valley Living Historical Farm kicks off its summer season with the Summer Garden Party. Visit the homestead and experience life in the 1800s. Learn about the original Pennsylvania German farm family who settled here in the late 1760s. See the farm animals, plus heritage craft and trade skills demonstrated as you tour the buildings with guides portraying members of the Depper family. The Summer Garden Party offers a day devoted to the art of gardening. Tour the kitchen garden, learn about herbs and their uses, explore heirloom vegetables, enjoy food tastings and make a garden-inspired craft. The event is June 15, 2019, from 10:00 AM to 4:00 PM. Admission is 10/adult; $5/child (3-12). Visit their website for additional information.
Savor the Sounds of Summer
Begin your Poconos summer with The Sounds of Summer on Wednesday, June 19 at the Mount Airy Casino Event Center. The Sounds of Summer is a Beach Boys Tribute Band that plays more than 20 familiar hits while telling the story of America's band: The Beach Boys. These four incredibly talented guys have been delighting audiences all over the country delivering an authentic sound and appearance of America's Favorite 1960's band. Hear hits such as: "Good Vibrations", "Help Me Rhonda", "Surfin' USA", "Fun, Fun, Fun", "California Girls", and "Don't Worry Baby" just to name a few. This show isn't just fun…it's fun, fun, fun! Tickets are $39. Click here for tickets and additional information.
Image by Pete Linforth from Pixabay
Adapted and updated from the original post