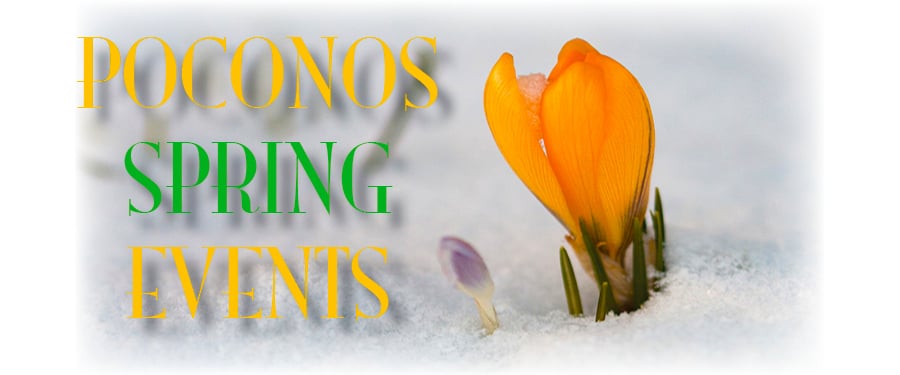 As cabin fever gives way to Spring fever, Poconos residents (and visitors) will be headed out to enjoy all that the region has to offer. There is always something going on in the Poconos—including events for kids, families, or adults. Here's a look at just a few of the events coming up early this spring!
Say Goodbye to Winter
March 1, 2019
6:00 AM to 6:00 PM at Jack Frost Mountain
Price: $9.33/person online in advance
Here's a fun way to bid winter farewell! It's the annual WMMR Cardboard Classic at Jack Frost. WMMR will be broadcasting live all day as competitors build and race giant cardboard sleds for this annual event at Jack Frost. The cost is $9.33/person online in advance (tickets are available online only). Check out the WMMR website for details.
Sugar Shack Scramble
March 2, 2019 - March 3, 2019
Time: 9:00 AM to 12:00 PM
Pocono Environmental Education Center
538 Emery Road, Dingmans Ferry, PA 18328
Enjoy some outdoor family fun at the Sugar Shack Scramble. Hike through the woods to the "Two Saps" Sugar Shack and enjoy hot cocoa and pancakes with fresh maple syrup! Sign up for a 9 or 9:30 am start time. Space is limited, so call 570-828-2319 to register. Price: $15/person
Get Your Giggle On
March 8, 2019
Doors open at 8 pm and show time is 9 pm
Silver Bridges Resort
205 Pennsylvania 507, Hawley, PA 18428
The kids shouldn't be the only ones who get to laugh. If you want to enjoy some adult comedy, set out to Silver Birches for a night of laughter with big names at The Waterfront. This Comedy Night will be hosted by Joel Richardson and features Paul Spratz and with headliner Joey Kola. A cash bar and "Munchie Menu" will be available. Cost is $20 per person. Click here for tickets and additional information.
Celebrate St. Patrick's Day With a Parade!
March 24, 2019
Starting: 1:30 PM
Stroudsburg High School, East Stroudsburg, PA 18360
660 Blue Mountain Drive, Palmerton, PA 18071
Enjoy marching units, bands, non-profit groups, politicians and local businesses marching between two boroughs to celebrate the life and good works of St. Patrick of Ireland with a grand Marshall who exhibits the similar characteristics. The parade kicks off at the Stroudsburg High School and ends at Crystal Street in East Stroudsburg. Best of all—it's FREE!
Take a Hike!
March 31, 2019
10:00 AM to 12:00 PM
Pocono Environmental Education Center
538 Emery Road, Dingmans Ferry, PA 18328
Take a hike with members of PEEC's knowledgeable staff and learn a little bit more about Pocono forests with this Guided Interpretive Hike. You never know what exactly you'll find out there, so don't be afraid to ask plenty of questions along the way. Hikes are set for March 17 and November 17, 2019. Cost is $5/non-member; free for PEEC members.