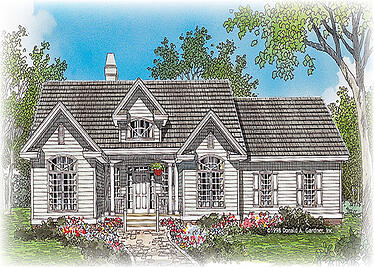 We've been building quality homes in the Poconos since 1978 and we've seen a lot of changes over that time. One of the things we've observed is that the homes customers tell us they want today need to be innovative in design and incorporate accessible design features that provide overall comfort and safety. That's why we're always working on the next great design that meets the needs of today's homebuyers.
One of our newest designs—The Sagewood—offers ease and convenience for a variety of homeowners. This single-level plan removes barriers for homeowners with strollers, walkers, or wheelchairs—or those who simply love the convenience of having everything on one level. It's a plan that you can enjoy now and into the future.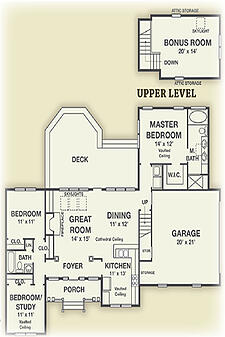 The open floor plan you see here (click here for a larger, more detailed view) provides plenty of space on one level with a Master Suite plus two additional bedrooms for children or guests. The vaulted and cathedral ceilings (along with skylights in the great room) add to the sense of open space. And the great room and dining room look out onto the deck—bringing the beauty of the Poconos right into your home.
This great design, however, also comes with a bonus. There is an optional bonus room above the garage. You can build it out immediately if you want a media room, a large spare bedroom, or even a spacious home office orr you can use it for additional storage now and finish it later if you need more room for the kids as they grow.
The Sagewood gives you the flexibility to adapt your home to your needs—now and in the future. That's single-level living—with a bonus!