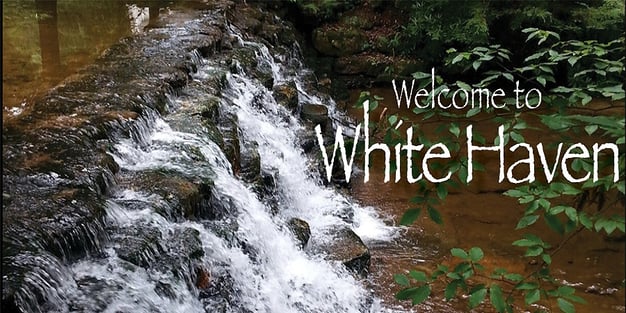 Often when people think of the Poconos region they focus exclusively on some of the better known ski resorts. And while it's true that there are spectacular ski-resorts in the area, they Poconos Mountains area is comprised of 2,400 square miles of land in northeast Pennsylvania's Carbon, Monroe, Pike and Wayne counties. There are lots of places in the Pocono Mountains region where you can find rolling mountain terrain, wild woodlands, beautiful waterfalls, and 170 miles of winding rivers.
And if you're looking for a place to build a new family home, vacation home, or even a place to retire that captures the peaceful, out-of-the-way character of the region, you might want to take a closer look at White Haven. With a low population density of only 916 people per square mile, it has a true small town feel. As recently as 2014 the total population of the town was listed at just 1,103.
While White Haven may be far enough away that it's peaceful, it's not exactly isolated. Scranton (with a population of 76,415 is only 25 miles away.
White Haven offers more than simply seclusion. The town boasts four parks that are open from dawn to dusk, including:
Lehigh Park
Located off of Lehigh Street, the park offers play structure areas, basketball hoop and covered pavilion for picnics and three baseball fields. It also has a concession stand and restroom facilities.
Linesville Park
Located at the end of Vince Street, this park offers fishing (with a valid license), disk golf, two baseball fields, soccer field and a pavilion area.
Hemlock Street Park
Located on Hemlock Street, this park just received a $30,000 grant from PA DCNR. With that grant the park will be designed for toddler aged children with a new discovery play structure and covered pavilion.
Pine Street Park
Located between Pine and Susquehanna Street, this park offers play structures, including a rock climbing wall and two basketball courts.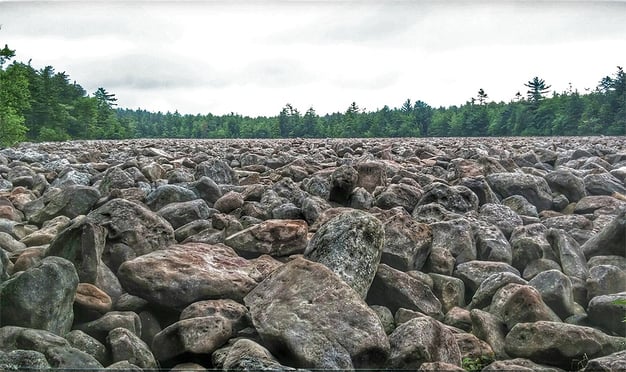 Hickory Run State Park in White Haven (that's where both photos you see were taken), is home to a remarkable boulder field (pictured here) that is a National Natural Landmark. The 15,990-acre park also features more than 40 miles of hiking trails, natural areas, and miles of trout streams.
Good healthcare is also easily available in the area at White Haven Center (on Oley Valley Road) and there are numerous additional facilities nearby including STEP BY STEP Hospital located just 11 miles away in Lattimer Mines, PA.
Property taxes are also affordable in White Haven where the median real estate property taxes paid for housing units with mortgages (in 2015) was just 1.4 percent.
At Liberty Homes we can help you find the perfect lot for your new home or we can build on a lot that you find on your own. We offer a wide range of floor plans that could be ideal for your new White Haven home. So if you're looking to get away from the hustle, bustle, and hectic pace of urban or suburban life, you might want to take a look at the borough of White Haven.