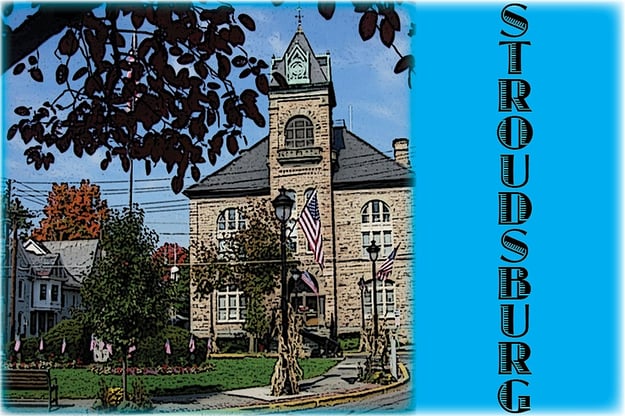 The Poconos region has an abundance of small towns—each with their own unique character and history. One town in the heart of the Poconos Mountains that merits a closer look is Stroudsburg. Located 38 miles north of Allentown and 53 miles southeast of Scranton, Stroudsburg was founded by the Jacob Stroud family in the mid-1700s. It serves as the Monroe County seat.
There's more to Stroudsburg, however than just ancient history. With its lively downtown area (that includes art galleries, music venues, museums, shopping, and fine dining) the town is a wonderful mix of small-town charm and modern convenience.
Shopping
If you're looking for great shopping opportunities, there are plenty downtown—opportunities you won't find at the local mall. Whether you're looking for nostalgic candy, candles, hand-thrown pottery, sporting equipment, or to browse through the world's largest general store—you'll find it all in Stroudsburg. Click here for a list of the stores and links to their websites.
Dining
Don't worry if all of that shopping makes you hungry. You'll have an abundance of great eateries from which to choose. Stroudsburg's restaurants include pubs, cafes, and ethnic eateries that serve Thai, Italian and French cuisine. And when you're done eating, you can enjoy the town's nightlife; grab a late-night bite to eat and enjoy handcrafted cocktails with a side of music and entertainment. At last count, there are 24 restaurants in the downtown area!
Enjoy the Arts
While in Stroudsburg you can catch the Black Bear Film Festival, take in the Pocono Mountains Music Festival, or catch a play at the Ritz Company Playhouse or the Shawnee Playhouse. There is also live music at Harmony Presents or you can catch a major act at the recently remodeled Sherman Theater. If you want to check out local art there are nine art galleries downtown to give you a wide range of pieces and styles from which to choose.
Take a Hike
You'll find ample hiking opportunities in and around Stroudsburg. You can take a stroll around the downtown area or head to the nearby woodland parks. If you want a gentle hike (or bike ride) you can try the paths along Brodhead Creek (and even drop a line in the water in the warmer months). Those who want longer and more strenuous hikes will find what they're looking for in the nearby and Delaware Water Gap National Recreation Area.
Play Nine (or 18)
Stroudsburg is close to a number of great golf courses. That makes it convenient if you want to play a round or two in the morning and still walk around the town in the afternoon.
All in all, Stroudsburg is a great place to visit—and to live. We invite you to take a look at some of the great floor plans we offer that you can build in or around Stroudsburg. If you have your own lot, we can build on that for you—or our in-house realtor can help you find the perfect Stroudsburg lot to build you ideal Poconos home.