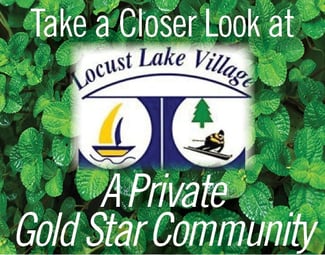 If you're one of those people who dream about a comfortable life on a quiet lakefront, Locust Lake Village in the Poconos may be just what you're looking for.
This small (the size is restricted to 1,600 home sites) community offers plenty of peace and quiet, but also has plenty of the kinds of activities that make living in the Poconos such a pleasure.
Conveniently located just off of Route 940, this private lake community is actually built around five lakes that provide spectacular views. Three of the lakes have swimming beaches that are staffed by trained lifeguards in the summer months. But there's more to do than simply swim!
The lakes are stocked with fish so that the anglers among us can enjoy hours of fishing fun whenever they like (and can actually catch something!). Non-motorized boats are welcome on the lakes as well.
Locust Lake Village is more than just a place to get away for the summer. It's only a 15 minute drive from winter activities at Jack Frost and Big Boulder ski areas and a mere 25 minutes from the Camelback ski area. Residents who want to skip the drive altogether can ski at the village slope—using the T-bar to access the peak elevation of just less than 2,000 feet when weather permits (There is no snow making equipment, so the slope relies on Mother Nature to provide the snow).
There is also a clubhouse available for all kinds of community events, and the village also offers recreation options that include shuffleboard, bocci ball, picnic areas, a baseball field, and a basketball court, and four tennis courts—two of which are equipped with lights to allow evening play.
Of course having the right home to live in really completes the dream of comfortable lake living. You'll want a home that looks like it belongs on the lake and meets your needs for space, comfort, and convenience. Click here to take a look at the floor plans from which you can choose. We offer a wide variety of sizes and configurations. With Liberty homes, if you see something you like, you can always make modifications to the room size, ceiling height, window positioning, location of the garage, and more. That way you end up with the home you really want.
If privacy, quiet, comfort, and flexibility are high on your list for the ideal lake house retreat, contact us today and we'll be happy to help you find just the right solution!