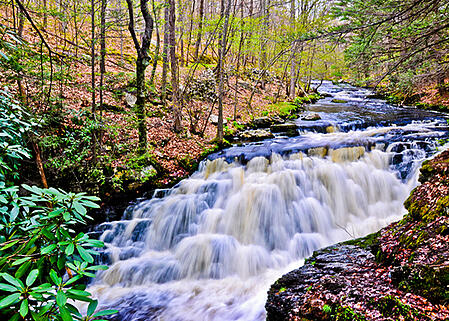 For many people living in the New York / New Jersey / Pennsylvania areas the Poconos are synonymous with vacation. But what if you had access to that vacation-like feel all year long? There's so much to do in the region!
1. Take in the sites
The Poconos region is comprised of 2,400 square miles of mountains, lakes, rivers, waterfalls, and woodlands. Whether you hike the area, bike it, or tour it by car, there's never any shortage of things to see!
2. Whitewater rafting
There are numerous outfitters in the region who can help you enjoy whitewater rafting on both the Lehigh and Delaware rivers all season long. Whether you prefer challenging rapids or the slower pace of tubing or rafting, you'll find it's cool wet fun on hot summer days.
3. Hiking
If you're serious about hiking, it's hard to find a better place. The Appalachian Trail marks the southern border of the Poconos. Plenty of other trails provide spectacular views of waterfalls and an abundance of rare plants and animals. Hike through wetlands bubbling with life or through dark, old growth forests.
4. Fishing
If fishing is your passion, you'll enjoy the thousands of acres of lakes and hundreds of miles of streams. On top of that, you can explore Lake Wallenpaupack, the third largest man-made lake in Pennsylvania. And if you're a beginner without your own fishing you can even borrow tackle through the Fishing Tackle Loaner Program at the Lake's visitor's center!
5. Entertainment
Looking for some indoor entertainment? There are concerts and plays being put on throughout the Poconos all year long. You can also catch a film at the Black Bear Film Festival in Milford, PA or catch the Buck Hill Skytop Music Festival in Buck Hill Falls, PA. Or you can catch a Broadway musical or award-winning drama at the Shawnee Playhouse in Delaware, PA.
6. Dining
Restaurants in the Poconos offer a variety of choices that include ethnic favorites (everything from Thai to Italian), four-star cuisine, and down-home family cooking. Visit one of several local farm-to-table restaurants, or relax at one of the many sidewalk cafes in the region where you can also enjoy live jazz or acoustic music with your meal.
7. Cultivate your culinary skills
You don't have to eat out to eat well! Want to step up your game in the kitchen? You'll find an extensive menu of classes in the Poconos. Hands-on classes run year-round and include baking, regional cooking, ethnic cooking, special occasion dishes, cake decorating, sugar artistry, knife using, gadgets, and more.
8. Relive history
The region is rich in the heritage and history of America. Throughout the Poconos you'll find an impressive collection of museums and historical attractions maintained by local historical societies that preserve the past of the region and keep it alive today.
9. Skiing and other snow activities
Naturally, when people think of the Poconos they think of skiing. With more than 185 ski slopes from which to choose, it's not surprising! But downhill skiing is just the beginning. You can try cross-country skiing, snowmobiling, dog sledding, or snow tubing as well.
Of course one of the best reasons to live in the Poconos is that you can build the home of your dreams here—away from the crush of city traffic. We've been building outstanding homes throughout the Poconos for more than 35 years. And whether you want to build on your property or in one of our six preferred communities, we can help you build the home of your dreams.
Take a look at some of the options available to you. Why live in the Poconos? It's kind of like being on permanent vacation!