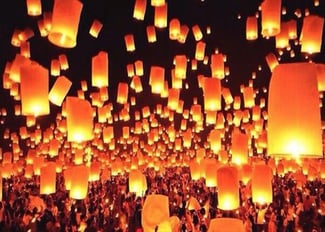 If summertime seemed just a little too short, there's still time to have some great outdoor fun in the Poconos. And the good news is that you don't have to settle for doing the same old things. Here are a couple of activities you may not have tried before. Give them a try and we suspect you'll be back for more!
Poconos Lantern Fest
On Saturday, September 26, 2015 you can join thousands of revelers at the Pocono Raceway on Long Pond Rd. in Long Pond, PA 18334 armed with lanterns for an unforgettable spectacle. Enjoy music, dancing, s'mores and—when the time is just right—light the sky with your highest hopes, deepest regrets, and fondest dreams as you let your lantern sail into the sky!
Historically, lanterns were used to symbolize good fortune, request favorable weather, or to celebrate the life of a loved one. Today, people often launch them when turning over a new leaf or just to enjoy the beauty of them floating against the dark night sky. The lanterns are 100% biodegradable, and after each release professional "Lantern Chasers" will track down stray lanterns.
You can also dance to the music, roast marshmallows, munch on snacks provided by local vendors, and of course, watch the lanterns float away into the night. Click here for more info or to register.
Pocono TreeVentures
Remember how much fun you had climbing trees as a kid? Now you can do it again—and so much more—together with your kids! At Pocono Tree Ventures (1575 Fairway Villas Blvd
, East Stroudsburg, PA 18302) you can spend the day up in the trees while you climb, balance and zip through the 66 elements of the Pocono TreeVentures ropes course. Great for all levels of outdoor enthusiasts from beginner to expert, the family outdoor aerial forest adventure offers five courses of varying levels of difficulty. Pocono Zip Racer, 1,000 ft dual racing zip lines is now open and part of the park. Be prepared to see the world from above with the highest point of the advanced course being over 40 feet off the ground. Click here for more information!
These are just a few of the reasons why the Poconos Mountains are a great place to visit—or live—all year long!
Photo courtesy of Lantern Fest.