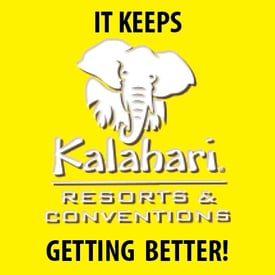 You may have already heard that Kalahari Resorts in the Poconos is bigger than ever. It's true. The Poconos facility is now officially the largest indoor water park in America—and it's right in your backyard!
But it's not only bigger—it's better! They've added hundreds of guestrooms to the resort to bring their totals to nearly 1,000 rooms—including one-, two-, three-, and even five-bedroom suites!
They've expanded the outdoor water park as well to make it easier to move around and find the rides you like. And speaking of rides, here are some of the new rides and attractions they're offering:
Screaming Hyena
Sahara Sidewinder
Coral Cove
The Smoke That Thunders
Victoria Falls

Kenya Korkscrew
Cheetah Race
Elephant's Trunk
Zig Zag Zebra
Swim-Up Bar

Indoor/Outdoor Spa
Wave Pool
Lazy River Expansion
Cabana Island
Your dining options are bigger and better as well, including the popular and eclectic Double Cut Charcoal Grill/Liquor Bar, the same signature dining experience that has delighted our guests in Wisconsin Dells, and the all new Sortino's Italian Kitchen featuring wood fired pizza and fun family dining.
But Kalahari Resorts isn't just about fun for the kids. It's also a great conference and convention facility, offering unparalleled hospitality in a vacation-style setting. With a sales and catering team that totals more than 400 years of experience, they have hosted for the best event planners in America consistently increase meeting attendance by more than 20 percent. Their expertise and in-depth knowledge of what it takes to host the perfect event—small or large—is obvious. Click here for more information about corporate events at Kalahari.
Guess what? They're not finished, yet. Soon you and your family will be able to experience life in ancient Egypt with the "Wrath of Anubis" that will sweep you back to the time of the ancient kings and queens who ruled the land of the Nile with a power that some say was not of this world. This fully interactive game will transport you to Ancient Egypt where you will use skill to navigate through 3 different "escape rooms." Each room will have hints and interactive features on all four walls to assist you in your progression to the next room. You'll rely on the interactive sounds, ambient lighting and voice of the spirit guardian to guide you in the right direction.
Kalahari Resorts & Conventions in the Poconos is bigger, better, more fun, and more accommodating than ever. And it's right in your backyard!