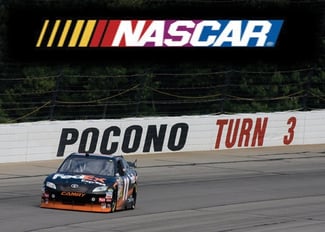 It's not always about peace and quiet in the Poconos. Sometimes, it gets downright loud—and some residents love it that way!
Of course we're talking about Pocono Raceway, the home of the Tricky Triangle, where the roar of NASCAR Spring cars is a regular occurrence.
On June 5-7 the Pocono 400 race weekend featured NASCAR's top touring series and the ARCA Racing Series Presented by Menards (ARCA).
If you missed the first race weekend, don't despair. "The Tricky Triangle" will host the July 31-August 2 Pennsylvania 400 race weekend featuring ARCA, the NASCAR Camping World Truck Series (NCWTS) and the NSCS.
July 31 is the date for NSCS and NCWTS Practice, NSCS Qualifying, and ModSpace 125 ARCA Race
August 1 is your chance to watch NSCS Practice, NCWTS Qualifying and Pocono Mountains 150 NCWTS Race
August 2 is the Pennsylvania 400 NSCS Race
If you're a 2014 NASCAR race weekend ticket holder, you can renew your tickets for the 2015 season. If you'd like more information regarding 2015 ticket renewals, please visit www.poconoraceway.com/renewals or call 1-800-RACEWAY (1-800-722-3929).
Not all of the action is on the track. On race weekends, the area around Tunkhannock Township in Monroe County has a festival feel to it as NASCAR fans flock to the area and camp nearby. There's a sense of community—and those who return throughout the season begin developing relationships with one another.
Of course NASCAR isn't the only reason to visit the Poconos. If you come for the races, you may want to check out some of the other great activities in the area. Enjoy live music at the Buck Hill Skytop Music Festival. Get lucky with some games of chance at Mount Airy Casino Resort. Shop until you drop at The Crossings Premium Outlets. Release your inner warrior with a little paintball fun at Skirmish USA. Or, if golf is your thing, enjoy one of the many great golf courses in the region, such as the course at the Fernwood Hotel and Resort. Click here for more information about things to do around the "Tricky Triangle" before or after the races.