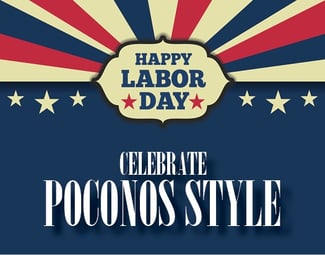 Most places around the country celebrate Labor Day one way or another, but we thought you might like to take a look at a few places that celebrate Labor Day Poconos style! Here's a look at some of the events going on around the region this Labor Day weekend.
The Pocono Garlic Festival
will be celebrating 22 years of the Hardneck Garlic harvest. This Labor Day weekend the Poconosregion will once again be filled with the aroma of garlicky goodness. More than 60 food and craft vendors will be offering everything from garlic vinegar and garlic ice cream to garlic-themed pottery and paintings. Local musical talent will also be showcased on two stages. There will also be educational demonstrations; the 5th Annual Garlic Eating Contest, and plenty of children's activities.
Location: Shawnee Mountain Ski Area, 401 Hollow Road,East Stroudsburg, PA 18301
Email: info@shawneemt.com for more information.
StroudFest
is a great way to celebrate Labor Day with your family at the Annual Labor Day festival, in Stroudsburg, PA! Multiple vendors will line the sidewalks on Main Street from 5th to 9th Streets. There will be a food court in the courthouse square surrounded by dozens of eclectic shops and restaurants. Enjoy live music at multiple stages throughout the day, and lots of activities for the whole family to enjoy!
Location: Courthouse Square, 5th to 9th Streets, Stroudsburg, PA 18360
Click here for more information.
The West End Fair
is an old-fashioned country fair with animals, and homemade/homegrown items on display. Kids, young and old will enjoy rides on the midway. Many consider themany mouthwatering food items to be the best feature of all. The fair runs from August 28, 2016 through September 3, 2016. Cost is $5 for ages 11 and older.
Location: Fairgrounds, 570 Fairgrounds Road, Gilbert, PA 18331
Email: secwefa@ptd.net for more information
Railfest 2016
will be hosted by the Steamtown National Historic Site on Saturday and Sunday, of Labor Day weekend. Get an up-close look at visiting railroad equipment displays, special shop demonstrations and, of course, train rides on both days of the event. The National Park Service site works with numerous partners to present this annual end-of-summer event, which is a celebration of railroading.
Location: Lackawanna Avenue and Cliff Street, Scranton, PA 18503
Click here for more information.
These are just a few of the Labor Day activities in the area. We invite you to join us for a taste for life in the Poconos as we celebrate Labor Day Poconos style!