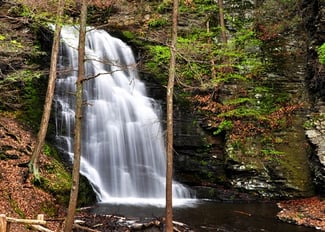 One of the best things about owning a home in the Poconos is that there are so many good reasons to leave home (even if it's only for a while). Enjoying the great outdoors is a huge part of the Poconos experience—and around here, the outdoors really are great!
Here's a quick look at some of the outdoor getaways you might want to check out in the Poconos region.
Fall in Love With the Waterfalls
Bridal Falls (pictured here) is just one of the many waterfalls you can hike to in the Poconos. Bushkill Falls (known as "The Niagara of Pennsylvania"), which may be the most well-known falls in the area, is ensconced in 300 acres of gorgeous landscape, along with seven other majestic falls and more than two miles of trails, bridges and walkways. You can also check out the mining maze, mining for gemstones, Native American and wildlife exhibits, miniature golf, paddleboat rides, miles of nature trails, fishing in Twin Lakes, gift and souvenir shops, ice cream shop, fudge kitchen, snack bar and trail map adventures.Click here for more information!
Wet, Wild and Wonderful
It's one thing to enjoy the beauty of Poconosrivers and streams. It's quite another thing to actually be part of that scenery! Whitewater rafting puts you right in the middle of nature! Pocono Whitewater lets you choose the level of adventure that's right for you. Choose from mild to wild dam release whitewater and family-style whitewater rafting trips. Enjoy more than 30 miles of scenic, easy downhill rail-trail biking excursions—or get your adrenaline going with a Skirmish paintball game.
All Aboard!
Want to enjoy looking around without too much strenuous activity? Simply hop a train, step back in time and enjoy the views through the windows of a cozy railcar! Roll along the region's scenic railways and learn some local history! You can pass through charming mountains towns like Jim Thorpe, Delaware Water Gap, Honesdale and East Stroudsburg. This narrated train tour is an unforgettable way for families, couples and curious travelers to explore the Pocono Mountains. Take your pick from The Stourbridge Line or the Lehigh Gorge Scenic Railway.
After seeing just some of what the Poconos have to offer, you may want to make the region your vacation home away from home.(It's also a great place to retire!) Take a look at some of the great home designs available to be built in this beautiful part of the world!