A lot of people love the Poconos region because of all the great outdoor activities. Not only can they take advantage of hiking, biking, water sports, and flat-out great scenery, but it's also a great place to picnic or entertain friends and family on the deck. But as September slips by, many area residents start thinking about taking the entertainment indoors.
If you're considering building in the Poconos region, you'll probably want a home that allows you to entertain both indoors and outdoors. One of the keys to being able to pull that off is having a floor plan with plenty of open space—where the kitchen isn't cut off from the rest of the common rooms in the home.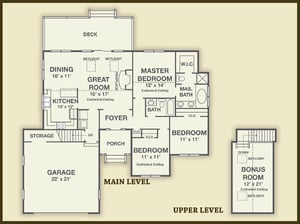 We've got good news! Our Oak Grove plan provides plenty of indoor space that's wide open and inviting. The kitchen opens onto both the dining area and the Great Room—where skylights add even more natural light. And the fireplace in the Great Room makes it a cozy place to gather even when the temperature drops. Plus, you'll enjoy great views out of the windows and door to the deck behind the house.
In addition to the main level master bedroom, there are two additional bedrooms on the main level—great for kid's rooms or guest bedrooms. And if you need extra space there's a large (12' x 21') bonus room above the garage.
Our Sagewood plan is another option if you're looking for a home that allows you to entertain indoors or out. It's also a single-level living home with a master bedroom and bath with two additional rooms (one can double as a study or home office) and an extra bath. The Great Room and Dining Room in this home have a cathedral ceiling (with skylights) making the space feel even larger. The Sagewood also features a Great Room fireplace and fantastic views out onto the large deck. So even if it's cool, you can still grill out on the deck and bring food in to watch football.
The Sagewood also has a larger (20' x 24') bonus room that can be used as attic storage or converted into a second family room or entertainment room.
Both of these homes allow you to enjoy the outdoors—from the deck, or from the comfort of your Great Room. It's just one more reason why the Poconos Mountains are great place to live, year-round!