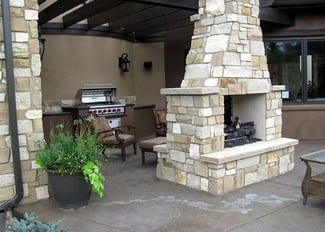 One of the main reasons people move to the Poconos is to enjoy the outdoors. And when the weather gets nicer, homeowners want to spend more time outdoors—even when guests arrive or when there are meals to prepare.
So how can you make sure you're not stuck in the kitchen when everyone else is outside enjoying the views? One solution is to build the ultimate outdoor kitchen. Of course your idea of "ultimate" may be different than your neighbor's, but here are some ideas you may want to take for a test drive in your mind.
Install Your Own Outdoor Pizza Oven
Friends and family can create their own personalized pizzas and then cook them themselves. It's fun to let your creative juices flow. Plus, with an outdoor pizza oven, you don't have to heat up the whole house in the summer (and you can even use it when it's cold outside). Check out the options at Mugnaini Ovens!
Put in a Fire Pit
Whether you have company over or just want a romantic evening alone, there's nothing quite like an outdoor fire pit. Installing a natural gas fire pit means you can enjoy it anytime you want.
Create An Outdoor Wine Bar
You can build a stone, concrete, or brick island that includes a chiller, a sink, and storage for glasses. You may even want to add a grill to the mix in case you want to whip up a quick snack. For the countertop, you may want to use recycled material such as you can find from Vetrazzo.
Don't Forget Comfortable Seating
It's a whole lot more enjoyable to sit outside if the seating is comfortable. But the outdoors can be tough on fabrics. That's where fade- and spill-proof, Sunbrella fabric cushions can be a big plus!
You've Gotta Have a Grill
Having the right grill can make all the difference in the world when it comes to outdoor entertaining. GE makes a line of MONOGRAM professional grills that will fit the bill—whether you're looking for a 30" or a 42" cooking center—or simply a dual burner cook top.
What's your idea of the ultimate outdoor kitchen? Let's talk so that we can work with you to create the idea outdoor spot for you to enjoy life in the Poconos!