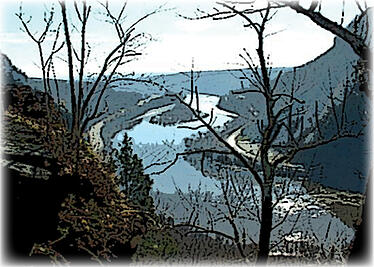 The Delaware Water Gap National Recreation Area is a gem in the crown of the Poconos Mountain region. This national park includes some 40 miles of the Middle Delaware National Scenic and Recreational River that is simply begging to be explored. The park is comprised of 67,000 acres of forested mountains, river valleys, and fertile floodplains. If you love the sights and sounds of tumbling water, rhododendron ravines, and hemlock forests, you simply need to explore this park.
One way to do that is to hike the park. There are more than 100 miles of hiking trails along streams, ridges, and mountaintops—affording views of bountiful wildlife in habitats ranging from riverbank to ridge top. The park also contains approximately 27 miles of the famed Appalachian Trail—one of the most storied trails in the United States.
If hiking isn't your strong suite, there is plenty to see from the comfort of your care as you cruise through more than 100 miles of scenic roadways that will take you past historic villages, structures, and landscapes from the valley's colonial past, including the sites of seven outpost forts that guarded the border of the English colonies during the French and Indian War. You'll even be able to look at agricultural fields that have been farmed for more than a thousand years.
The Park also offers an abundance of other activities including swimming, canoeing, kayaking, rafting, tubing, biking, hunting, fishing, and picnicking. There are ice-climbing and rock-climbing opportunities, as well as cross-country skiing or snowshoeing in the winter months. The park is also a birder's paradise.
The Poconos region, of course, is famous for its waterfalls, and the Delaware Water Gap Recreation Area is no exception. It's home to Dingmans Falls, the second highest falls in the state, with a plunge of 130 feet. In heavy spring runoff, there is no way to get to the end of the boardwalk without getting drenched by spray—but that's just part of the experience!
If you're looking for a genuine Poconos experience, you really need to explore The Delaware Water Gap National Recreation Area for yourself!