For a lot of people building a home in the Poconos is a dream come true—whether it's a vacation get-away, a summer, home, a place to retire, or a year-round family home. Part of the appeal is that there's something for everybody in the Poconos. But there are times when more than one family wants to take advantage of what the Poconos have to offer.
Maybe you have a multi-generational family that comes to the Poconos to get away from city or suburban life for a while. What kind of home can you build that will meet the varying needs of everyone staying there—particularly if you all show up at the same time?
That's where a floor plan such as the Liberty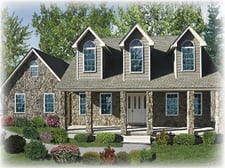 Hill can really make a difference. The main floor has plenty of common space for everyone to get together in the kitchen, great room and dining room. Plus it's got a main level master bedroom along with a utility room on the same level. There's another bedroom on the same level and even a third that could be a bedroom or study. Plus there's an ample deck in back where the whole family can gather. The second level offers two additional bedrooms and a bathroom, so younger family members can be on their own up there. Click here for a look at the floor plan.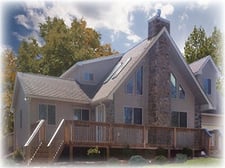 The Summit gives you another option. It too, has a master bedroom on the lower level along with a wide-open floor plan that has the kitchen, dining area, and living area open to each other. In this plan, you have two decks from which to choose (and the one at the rear of the home is partially covered. You also have a sunroom on the lower level and a laundry room off the garage entrance. There are two bedrooms upstairs along with a nice-size loft that could be a second family room or TV room. So there is lots of room to spread out. Click here for a look at the Summit floor plan.
Both of these plans—like any of our floor plans—can be modified to better fit your specific needs, whether it's adjusting room size, changing the location of windows, moving the garage door location, or whatever else will make this plan reflect your idea of the perfect home for your family.
So whether you plan to come occasionally, or permanently—and whether you come as a couple or an extended family—you'll have the space, comfort, and safety you want in a great Poconos setting.