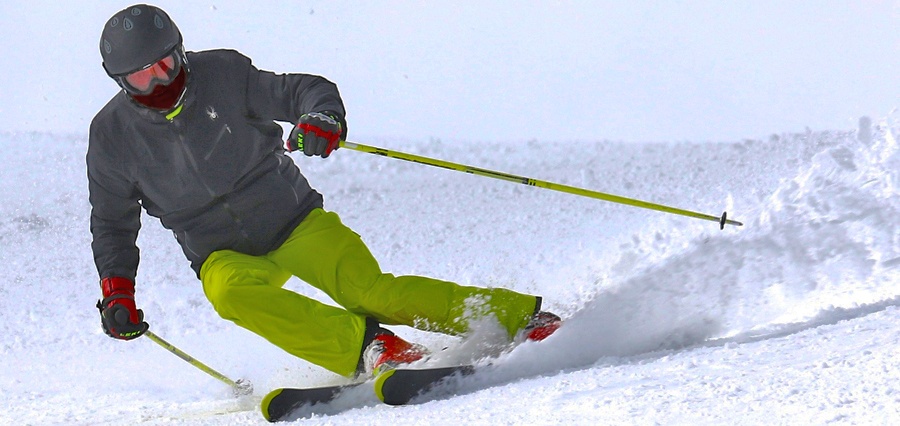 For a lot of people on the East Coast, the Poconos are synonymous with skiing in the winter months. Part of that is no doubt due to the natural beauty of the region. But another big reason people head to the Poconos to ski is that they have so many choices. Regardless of your skill level or other interests, there's something here for you when you want to hit the slopes. Let's take a look at some of the best ski resorts in the Poconos.
Camelback Mountain
Camelback Mountain is one of the top ski resorts in Pennsylvania! It has been voted the number one resort in PA for 4 years in a row, and offers the largest skiing area and snow tubing park in the United States! 100% lit for night skiing, you will be able to enjoy skiing from morning until evening and even later. Camelback Mountain also offers learning classes for kids and adults so beginners can easily get up to speed. To top off the features of this winter playground, the resort also has an indoor water park. Check out Camelback Mountain and experience the fun!
Click here to visit Camelback Mountain's website!
Shawnee Mountain
A family oriented ski resort in eastern PA, Shawnee Mountain is located right outside East Stroudsburg, Pennsylvania! It is easily accessible from I-80, exit 309. Since it is on the eastern edge of the Poconos, Shawnee Mountain is a great choice for families and winter sports enthusiasts who live in cities such as New York City or Philadelphia. You will definitely enjoy skiing on this Poconos mountain!
Click here to visit Shawnee Mountain's website!
Jack Frost and Big Boulder
These two ski resorts have deep roots in the industrial era of Pennsylvania. It was here that snowmaking was first used successfully in a commercial application! The Big Boulder Ski Area was the first ski resort in Pennsylvania and remains a popular ski destination to this day. Jack Frost Mountain has a summit elevation of 2000 feet, a base of 1400 feet, and a vertical drop of 600 feet. It includes 21 different slopes. Big Boulder Ski Area devotes 50% of its overall terrain to park features. The base elevation is 1700 feet, and the summit sits at 2175 feet leaving the vertical drop at 475 feet. Big Boulder boasts 15 innovative slopes for everyone from beginners to advanced skiers. Stop on by these historical ski resorts and see for yourself why they are still some of the best around!
Visit the Jack Frost and Big Boulder website here!
Blue Mountain
Blue Mountain has Pennsylvania's highest vertical elevations for ski slopes as well as great terrain! Only 90 minutes from Philadelphia and 90 minutes from New York City so you can easily access this ski resort whenever you want! Blue Mountain offers skiing and tubing but also has a bunch of summer activities groups can enjoy. From laser tag to ropes courses and more, this resort ensures a fun time for your family!
Click here to visit Blue Mountain's website!
Montage Mountain
Just under 2 hours from Philadelphia and New York City and only 3 - 4 hours away from Baltimore and Washington, DC, Montage Mountain is an easily accessible ski destination! The resort features amazing skiing, snowboarding, and tubing and also has a water park for incredible summer fun.
Click here to visit Montage Mountain's website!
Ski Big Bear at Masthope Mountain
Ski Big Bear offers 18 trails, 7 lifts including 2 Magic Carpet lifts, and 650' of vertical. The mountain is covered annually with approximately 50 inches of snow. When Mother Nature isn't sending snow our way, our snowmakers make sure the trails are blanketed with as much snow as possible. If you're a beginning skier and want to work your way up as your skills increase, Big Bear at Masthope Mountain may be the perfect place. Beginners can try their newfound skills on the Snowbird/ Magic Carpet run. If you're looking to hone your skills riding the chairlift, you can head for the Snowbird/Whispering Run/Little Bear Chair. Once you've mastered the chairlift challenge, you may initially want to find the easiest way down. That means taking the Snowbird, Whispering Run, Lower Jamboree, Upper Eagles Pass, Lower Eagles Pass, Cruisin', or Thundercloud runs. More advanced skiers can have fun on Upper Jamboree, Grizzly, Upper Eagles Pass, Shortcut, and Lower Thundercloud runs. There's also tubing on Magic Carpet 1 and Magic Carpet 2.
Click here to visit the Ski Big Bear site.
Adventure Center at Skytop Lodge (Skiing)
Ski downhill with your family on four wide, crowd-free, gentle slopes with a vertical drop of 295 feet and experience the ultimate skiing rush. Skytop Lodge offers the perfect setting for new skiers without the crowds! Ski or ride your way down the pristine, gentle slopes at Skytop Lodge's Ski Hill. Located on West Mountain, the four distinct slopes feature beautiful panoramic views of the Pocono Mountains and wide trails cut through serene Pennsylvania forest.
Click here for more information about Skytop Lodge and their other amenities.