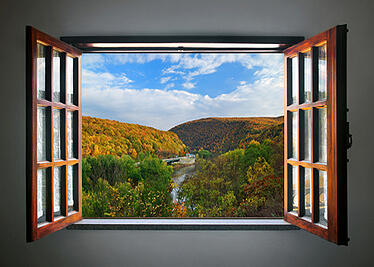 There's no question that there are some spectacular views to be enjoyed in the Poconos Mountains. It's a big reason many people decide to relocate here. And of course it's one of the reasons that people in real estate emphasize the importance of location.
Of course, not every parcel of property has a great view. So if that's important to you for a new home you're considering in the Poconos, you'll want to make sure you find an available property in the Poconos that fits your expectations.
Of course, there's more to location than simply views. Even the most breath-taking vistas won't do you much good if the lot isn't suitable for building without a lot of extra excavation or clearing. And if you don't have access to local utilities—it's pretty much impossible to build a home in which you'll be comfortable.
Then, of course, it's imperative that you build the right kind of home on your lot. You'll want a home that fits your requirements and your sense of style. That means starting with the right home design. Once you have your basic design picked out, you can work with your builder to customize that design to meet your specific needs and tastes—including working out ways to take advantage of great views.
That's what custom homebuilding is all about! It's refining a basic plan until your home fits you like a glove.
It all starts with selecting the area where you want to live. We've been building outstanding homes throughout the Poconos in Northeast PA since 1978. We know the area and can build on your land, help you find that perfect Pocono Northeast home spot, or build in one of our 6 preferred communities.
Where you build your Poconos home matters. We'd love to help you build yours in the perfect spot!