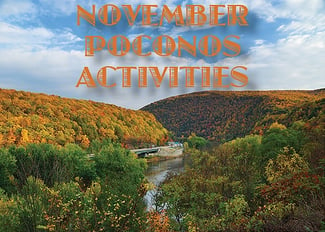 The days may be a little shorter and the weather a little cooler, but there are still plenty of things to do in the Poconos region this time of years. Here are just six activities you'll want to consider that will help you enjoy November in the Poconos!
1.

Haunted Trails Of Screams!

Just because Halloween is over that doesn't mean the thrills are! Let the chills run down your spine while you experience ghastly witches, flesh eating zombies, chainsaw maniacs, and so much more on the 70 acres of Trails of Screams. Take a ride on a tractor-pulled hayride or ride one of the brand new 2017 Kawasaki Brute Forces. Driver must be 21 years of age or older, passenger has no age limit and weight may not exceed the weight of the driver. S'more kits and refreshments are available for purchase.

Date: Saturday, November 5, 2016 from 6:00 PM to 11:00 PM
Price: $7/haunted hayrides; $25/haunted ATV Tour driver; $15/haunted ATV Tour passenger for more information visit

http://www.alvinsoffroadplayground.com
2.

The Bike Train

All aboard! What could be better than bikes and trains together? The scenic Bike Train let's you step back in time and enjoy a relaxing train ride up the Lehigh Gorge for 25 miles, then pedal your bike back down to Jim Thorpe at your own pace along the Lehigh Gorge Rail-Trail. Round-trip train ride tickets are also available. Purchasing tickets in advance is highly recommended.

Date: November 5, 2016 - November 6, 2016
Pocono Biking Center, 7 Hazard Square, Jim Thorpe, PA 18229
Time: Departs Train Station at 9am
Price: $25 per person/with your own bike; $42/per person with Trek bike rental
3. Railroad Photography of Daniel Troy
Steamtown NHS will host a photography exhibit featuring works of Daniel Troy titled, Railroad Photography of Daniel Troy. The exhibit will be displayed at both the first floor lobby area of the park's administration, and on the intermediate level of the park's history museum.

Date: Daily through December 31, 2016
Time: 9:00 AM to 5:00 PM
Price: $7/adult entrance fee; Free/ages 15 and under. For additional information visit
https://www.nps.gov/stea/learn/news/troyexhibitpr.htm
4.

Live Music Fridays at Ledges Hotel

Who doesn't love live music, good food, and great drinks? Enjoy a rotating line-up of live music in the lounge every Friday year-round.
Location: Ledges Hotel Glass-Wine. Bar. Kitchen. 120 Falls Avenue, Hawley, PA 18428
Every Friday
Time: 8:00 PM to 11:00 PM
Price: No cover charge.
Phone: (570) 226-1337 or email: info@ledgeshotel.com for more information.
5.

Saturday Bog Walk

The Environmental Education Center hosts a guided-public walk into the unique Tannersville Bog. Along the way, an Environmental Educator will explain the bog's formation, its' interesting plant and animal life, and the role the local Preserve Committee and the Nature Conservancy play in its continued protection. Over 2.5 hours, explore the floating boardwalk and the surrounding area of the bog. Please wear appropriate footwear (no open-toed shoes). Pre-registration is required.

Date: November 12, 2016
Time: 2:00 PM to 4:30 PM Directions: Travel on Route 611. At the light at the Tannersville Inn, turn onto Cherry Lane Road. The parking lot is 1.9 miles on your right from Route 611. Please call 570-629-3061 to register.

Price: $6/non-members; $4/Nature Conservancy and EE Center members and children under 12
6.

Live Music at Barley Creek with Time Peace

Enjoy live music every Saturday night at Barley Creek Brewing Company. There's no cover charge! Plus you get to enjoy great food and handcrafted beer brewed on-site.

Date: November 12, 2016
Time: 8:00 PM to 11:00 PM
Price: Free!

As a bonus, there are free brewery tours daily at 12:30pm. Visit http://www.barleycreek.com for more information!