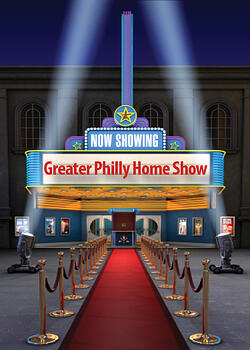 If you're thinking it might be time to make a few improvements to your Poconos-area home—or even if you're considering building a new home—the Greater Philadelphia Spring Home Show from January 9-11 at the Valley Forge Casino Resort is a great place to get started. Even if you're in the earliest stages of planning a home renovation project, or thinking about building, there are four reasons you'll want to attend the show this month.
Dozens of Contractors Under One Roof
There are a lot of things to consider when you begin a home remodeling project. One of the biggest, of course, is choosing the right contractor. It could take you days to research, call, and set up appointments with various remodelers—or you can choose from dozens of carefully pre-selected professionals gathered together under one roof. And there's no substitute for meeting these contractors face-to-face before deciding which one is the right fit for you.
The Kitchen Showcase
Kitchens are always one of the most popular home remodeling projects because of the impact a new kitchen has on the whole house. The Spring Home Show offers a "show-within-the-show" with The Home Show's Kitchen Showcase. You'll get a hands-on look at the latest styles and trends—and be able to talk in person to the craftsmen who can make these dream kitchens a reality in your Poconos home.
Every Aspect of Remodeling in One Place
It doesn't matter what kind of project you have in mind, you'll be able to gather information, look at samples, and talk to experts about virtually any kind of remodeling project. Here's a partial list of the kinds of offerings you'll find:
Kitchens Countertops
Bathrooms Doors
Windows Flooring
Roofing Heating & Air Conditioning
Siding Custom Woodworking
General Contractors Tile & Marble
Gutters Custom Home Builders
Decks Energy Conservation
Dormers Insulation
Sunrooms Hot Tubs
Basement Systems Closet Systems
Special Pricing
While we believe that the focus should always be on quality and value, we also know that getting a great deal is important. Many of the participants at the show will offer special "show-only-deep-discounts." This may be a really good opportunity to pick up some upgrades that you've always dreamed of—without breaking the bank.
And if you need even more incentive to check out the show, consider that one lucky attendee will walk away with $10,000 to be used on his or her home project!
Check out the details of the show yourself, or give us a call at 866-496-8746 with any questions you have. We hope to see you there!