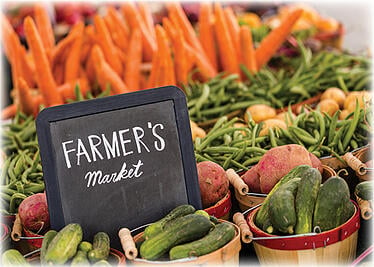 One of the great—but often overlooked—things about the Poconos area is that it's a great place to purchase local produce and other "farm-to-table" food. Here's a partial list of the region's farmers markets—a number of which are open all year long.
Paupack Blueberry Farm
184 Gumbletown Road, Paupack, PA 18451
570-226-9702
There's nothing quite like eating blueberries that you've picked yourself. Head on out to the Paupack Blueberry Farm (nestled between Lake Wallenpaupck and Fairview Lake on Gumbletown Road between mid-July and Labor Day to pick your own berries! Afterward, you can cool off with some homemade blueberry ice cream and cold drinks in the store—or pick up some jams, jellies, baked goods, or Calkins Creamery cheese!
Monroe Farmers Market
Courthouse Square Stroudsburg, PA 18360
Monroe Farmers Market has been serving the Stroudsburg community for over 30 years and offers quality produce, plants, flowers, eggs, raw milk and dairy products, raw natural honey, fresh baked breads & pastries, jams, jellies, syrups, hand roasted gourmet coffee, homemade pasta, sauces, fine wines, meats, herbs, and more!
While the outdoor market is closed for the remainder of 2014, the indoor winter market will be open inside the Sherman Theater in Stroudsburg on Saturdays from 8:00 am - noon. The outdoor market is open every Saturday from 8:00 a.m. to noon, May through October, at Courthouse Square in beautiful Downtown Stroudsburg. The indoor winter market is every Saturday 8:00 a.m. to noon, November through March, inside the Sherman Theater at 524 Main Street in Stroudsburg.
The Cooperage Project
1030 Main Street, Honesdale, PA 18431
570-253-2020
Among the many happenings at The Cooperage Project are farmers markets that run year round—even in the winter! During the winter market you'll find a variety of fresh produce, meats, breads, baked goods, candy, mustards, jellies, mushroom logs, soaps and teas, among other items. Visit The Market Café, where you can pick up a delicious and nutritious, farm to table meal featuring seasonal and local products. Vendors at The Cooperage Farmers' Market must be located within a 50-mile radius of Honesdale meaning that all products are grown within the region. This is a producer-only market; all vendors must grow their own fruits and vegetables, raise their own livestock, or prepare their own specialty goods.
Village Farmer and Bakery
27 Broad Street Delaware Water Gap, PA 18327
Phone: (570) 476-9440
For the past 36 years, the Village Farmer and Bakery has been open every day from 8 am to 8 pm (except Christmas). They do all baking on the premises and you can watch the pies being made at this bakery and Farmers Market. They also serve potpies, sandwiches and grilled food (BBQ available on the weekends). Local goods are also available for sale.
The scenery of the Poconos may be food for your soul, but it's nice to pick up some local provisions for the rest of you while you're here!