Best Places to Live in PA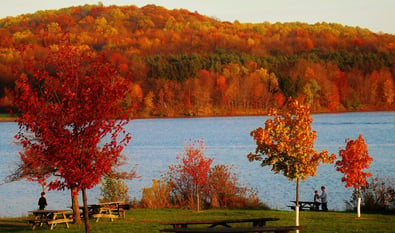 When searching for the best places to live in PA, you will come across many different cities and towns across Pennsylvania that have low crime rates, great schools, high average household income, low commute times, and many other factors that go into the ideal place to live. Depending on your needs, however, these places might not fit your ideals.
If you are looking for a beautiful, scenic location that has great schools, local activities, and lower living costs than cities, the Poconos is one of the best places to live in PA for what you are looking for! Here are some of the great things about the Poconos:
The Cost of Living in the Poconos Trumps City Home Prices
Living in the Poconos will always be more affordable than living in a city. For the price of a studio apartment in New York City, you can find many historic, large, and beautiful homes with luxurious amenities and great locations. If you want more customization, you can find a builder to build the exact home you desire!
The Poconos is Amazingly Beautiful All the Time
Whether it's spring, summer, fall, or winter, the Poconos is beautiful all year round. From snow covered peaks in the winter to beautifully colored forests in the fall, you can't beat the views.
You Will Never Run Out of Things to Dos
Hiking, biking, boating, skiing - these and many other outdoor activities are always accessible in the Poconos. In addition, you will find many other things to do such as drive-in movie theatres, local events and festivals, farmers markets, resorts galore, casinos, iconic natural wonders, and much more.
Are You Interested?
We can talk about the Poconos all day! The locals love it here, and many people are trading suburbia and city living for the Poconos. Are you interested?
Liberty Homes is a home builder in the Poconos. We can build in one of our preferred communities or on your lot. If you're looking for your own lot, we can also help you find one! And we have many floor plans to choose from which can be customized to fit your needs.
Click here to view our floor plans. If you are ready to learn more, contact us to receive answers to your questions and more information!