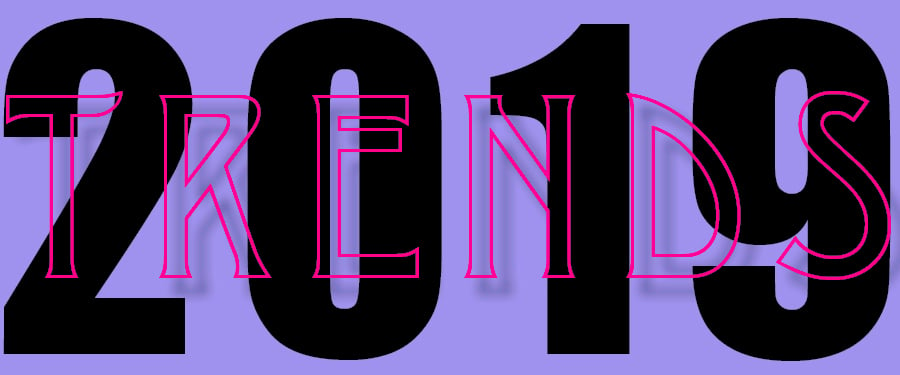 One of the benefits of building a new home (as opposed to purchasing an existing home) is that as a homeowner, you get to take advantage of all the latest developments and improvements—and create a home that's designed and built with today's added comforts and styles in mind. But what are the most recent developments? As we head into a new year, what is the future of homebuilding? And what are the trends that could take off in 2019?
Trends Don't Always Change With the Calendar Year
There are certain things you can be sure will change every year. The "Color of the Year" is different every single year. This year, the folks at Pantone have selected "Living Coral." It's a bright and cheerful color that's already showing up in fashion and as an accent color. When it comes to home décor, however, the story changes a bit. Sherman Williams has announced that their color of the year is a "rich blue with jewel-toned green" called Oceanside SW 6496. Benjamin Moore offers their own suggestions and, as usual, offers a wider palette of colors that present lots of options.
A lot of trends, however, develop more slowly and are predominantly driven by lifestyle (how people actually use their homes) rather than just aesthetics. True trends generally come about because they reflect design and ideas that make a home more comfortable, convenient and welcoming. That's why it's so important to pay particular attention to the most important spaces in the home you want to build because that's where you'll spend most of your time.
With that in mind, let's take a look at trends for some key areas of your new home.
Kitchens
Kitchens are always high on the list of important rooms for any home. Many of the trends that have developed over the past few years (open floor plans, kitchen islands, dine-in options) will continue to stay strong.
One newer trend that's continuing to build strength is creating kitchens that connect to the outside (patio, deck, etc.) as well as opening to other rooms inside the home. Often that includes a sliding glass door that extends the kitchen space (visually) to the outside and creates a "blended" space that combines indoor and outdoor living. It also reflects another trend that's been around for a while (and shows no sign of abating): Increased use of natural light.
Bathrooms
There's a reason that bathrooms (both powder rooms and master baths) are perennially among the most remodeled rooms in a home. They're important to the occupants! A recent post on Houzz.com reported on bathroom trends observed at Italy's Cersaie Fair in September. You can read about the details here, but among the trends observed were the emergence of personalized and streamlined bathrooms, increased use of mix-and-match tile work, slim whirlpool tubs, and easy-clean toilets.
Family Rooms
For some time the trend in new homes has been toward more casual family rooms rather than the traditional, formal living room. That's really a personal choice and can often be handled by décor even in an open floor plan home. To get an idea of how widely these designs can vary, take a look at the most popular living rooms for 2018 on Houzz.com (they use "living room" and "family room" interchangeably). You'll see both formal and informal rooms. Some are open floor plan homes and others are not.
Fading Trends
I'm always a little bit cautious about discussing trends that are fading or no longer trending. For instance, designers and builders have been talking about the demise of stainless steel appliances for years. Guess what? They're still around and they're still popular! Black stainless steel appliances, however, continue to increase in popularity. They have a certain elegance and are easier to keep clean.
Another material (also in the kitchen) that seems to be losing its place as the "go-to" countertop material is granite. It is most often being replaced by quartz. Some of that may have to do with the trend toward cleaner simpler lines. Granite remains popular, but quartz seems to be taking over. That doesn't mean you have to choose that route, but it could be a trend that can make some kitchens look a little dated in the future.