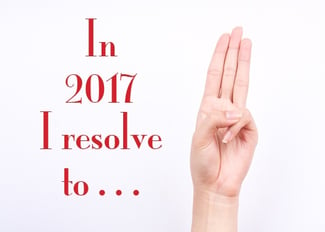 Are you among the 8 percent of the U.S. population (according to Forbes.com) that actually succeed with your New Years resolutions? Maybe the problem is that your resolutions just aren't ones you're really excited about. But what if your New Years resolutions were focused on making your Poconos home more comfortable, inviting, and enjoyable?
Instead of beating yourself up over changes you really don't want to make, perhaps it makes more sense to make some changes to your home that you'll really enjoy. Here are a few ideas to get your creative resolution juices flowing.
Kitchen Remodel
Is a dark or cramped kitchen keeping you from entertaining the way you'd like? Maybe what your kitchen needs is more than just a fresh coat of paint. A fully remodeled kitchen can make it a room where you'll enjoy preparing meals and entertaining guests. A qualified builder/remodeler can help you make the most of the space you have and turn your kitchen from boring to beautiful! Download our free Creating Your Ideal Kitchen eBook here for tips and information.
Take Advantage of Space You Have
If you love your location but are feeling a bit squeezed for space you don't have to move. You may be able to make better use of the space you already have. An unfinished basement can be a great media room or game room. Or your garage could do more than simply cover your car: you could turn it into a workshop or build in storage space that frees up space in your home.
Cut Down On Utility Bills
Nobody likes spending too much on their utility bills, and yet, the average annual cost of an American home's energy bill is nearly $2,000! We've discovered that a lot of people in the Poconos area don't even know what they're spending on utilities. If one of your New Years goals is to get control of your spending, cutting utility costs is a great place to start. Not only will you save money, but you'll be more comfortable, too! As a RESNET-ENERGYSMART certified contractor, we can help you determine exactly what your energy use is costing—and make changes that will add to your comfort and lower your bills. Here's some helpful information about how that works.
If you have other projects in mind that would make your home more enjoyable and comfortable, we also specialize in bathroom remodel, additions, and specialty spaces. If you're not sure where to start, schedule a free Poconos remodeling consultation to learn about the remodeling process; get design options and pricing for your home, and get answers to specific questions you have. It's free and easy!
Make 2017 the year that you achieve your New Years resolutions by making plans you really want to work on—plans that will let you enjoy your Poconos home in comfort for years to come!