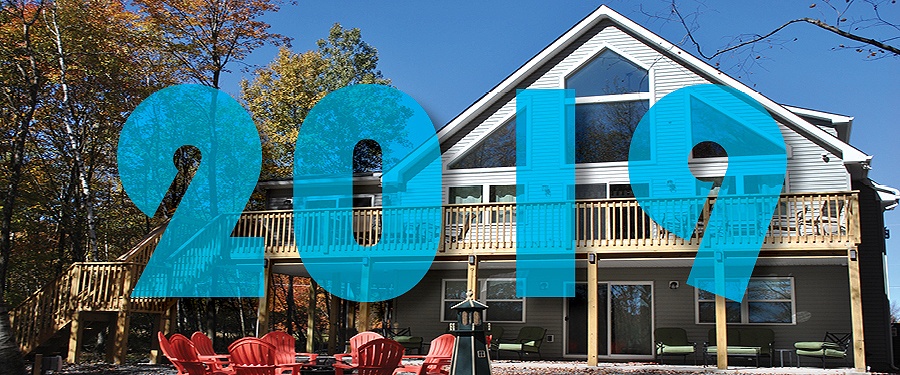 If you're like many Americans, the approaching New Year makes you think about making some changes. Of course, while we tend to make New Year's resolutions, we are not all that great about actually keeping them! According to Statisticbrain.com 45 percent of Americans still make resolutions each year, but only 8 percent claim to be successful in keeping them.
Maybe that's because we resolve to do things we really don't want to do. But if you've been thinking about building a new home in the Poconos—well, that's a little different. That's something fun and exciting that you undertake because you want a home that's more convenient and comfortable. And now is a great time of year to explore your options.
Many people don't think a lot about building a new home in the winter, but it's actually the perfect time to think about it. That's because building a custom home isn't something you want to rush into. You want to take your time and do your homework before you start building. So what kind of information should you start collecting? Here are several steps to get you started.
Get Your Financial Ducks in a Row
It's easy to jump into design and decorating ideas (hey, that's the fun stuff!), but getting your finances in order is critical to the whole process. And one of the first steps is to get yourself pre-approved before you get too far down into the details. Here are a couple of reasons why pre-approval is so important.
First of all, getting pre-approved helps you be realistic about the kind of home you should consider. It doesn't make sense to look at models or make plans for a home that's out of your budget range. That only leads to disappointment and frustration. You don't have to get your budget down to the penny, but it's helpful to have a fairly accurate idea of the range. You don't want to look at a home you can't afford, and you also don't want to settle for a home that doesn't meet your needs.
Second, being prequalified can help you avoid delays. Mortgage rates can change without much notice. If you're pre-qualified you can move more quickly if there is a drop in rates (or if rates start to head in the other direction). Otherwise, you have to go through the approval process and rates can change significantly during that time.
Choosing a Location
Where you chose to live is really important to how satisfied you'll be with your new home—and you have a lot of choices within the Poconos region. We've been building homes here for almost 40 years, and we know some of the best spots available including: Thornhurst Country Club Estates, Arrowhead Lakes Estates, Locust Lakes Village, Lake Naomi, Towamensing Trails, and Eagle Rock Resort. Each of these communities has its own personality, character, amenities, and charm. Depending on your specific tastes and interests, one may be just right for you. You can check out a brief description of each one here. Of course, you can also build on a lot that you purchase yourself. We're happy to help you find the perfect spot for your new Poconos home.
Selecting a Floor Plan
Not all homes are created equal! What style home are you looking for? What kind of floor plan fits your lifestyle? Are you after single-level living—or are you looking for a two-story home with room for lots of guests? The good news is that—once again—you have plenty of choices. Check out these custom home designs that will give you a feel for what homes in the region look like from the outside and on the inside. You can take a look at individual floor plans to see which ones best match your specific lifestyle. Of course, a floor plan is only the beginning. You're not locked into every detail just because it's in the plan. We're happy to work with you to adjust any of our plans to better meet your needs and tastes. You have the option of changing room sizes, window placements, the location of the garage door, ceiling height, or even adding extra space.
Gather Some Design Ideas
Floor plans are great for getting a sense of the overall flow of a home. But a lot of people also want ideas about how the finished home will look. What kinds of finishes are possible for the kitchen? What flooring is best for your home? How can you make the family room or great room look inviting and warm? What will an open space floor plan actually look like? Check out some finished custom homes here for ideas about what's possible.
Wouldn't it be great if this year was the year you kept your New Year's resolution? It really helps when your resolution is one you want to keep—like building your dream home in the Poconos!