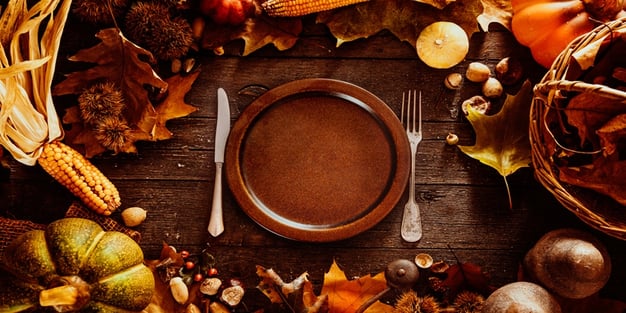 For many of us, the first thing that comes to mind when thinking about Thanksgiving is turkey with all the trimmings. You may have a number of family traditions when it comes to side dishes that help make the occasion special. And if you run into trouble with the bird itself, you can always call the Butterball hotline. For more than 30 years, Butterball's professionally trained turkey experts have been answering more than 100,000 turkey related questions each holiday season.
If you're looking for additional "Old Tyme" recipes, the team at Refinery29.com asked Bonnie Slotnick, owner of a New York City vintage cookbook store, to dig up some of the best dishes of holidays past. She pulled together 10 retro recipes that you may want to try for your table. Click here to take a look!
Set the Tone
Of course, there's more to the holiday than just serving the perfect meal. Before things get too hectic you might want to revisit the classic An Old-Fashioned Thanksgiving by Louisa May Alcott. You can most likely check out the book at your local library, or you can click here for a dramatic reading of this short story. It's a nice way to set the tone and the focus of the celebration.
Walk Off That Turkey
Over-eating at Thanksgiving is almost an American rite of passage at Thanksgiving. One way to alleviate that over-stuffed feeling is to take the group out after dinner for a short walk in the brisk November air. While there are tons of great hiking trails in the region, you don't have to go to those lengths to help your guests overcome the drowsiness that follows the meal. Map out a short and simple walk around your neighborhood that lets you stroll at your own pace and enjoy conversation.
Prepare Your House
Thanksgiving often means having a lot more people in the house than we're used to. Even if you have the perfect family room or living room in your Poconos home, hosting Thanksgiving at your house can test the limits of your space. A good solution is to go through the rooms where guest will gather and temporarily remove a few pieces of furniture that aren't absolutely necessary. You'll still want to provide plenty of seating, but make sure that people can move around as well.
You can also stage "snack areas" at various places around the common rooms of your house. Not only does it cut down on kitchen traffic (you know people will have to sneak a peek at the turkey), but it also gives guests places to congregate and engage in conversation.
You may want to set up a temporary bar or drink station where guests can make their own drinks. You don't have to go overboard, trying to please everyone's tastes, but do make sure you have non-alcoholic beverages for the kids and others who prefer not to imbibe.
Keep in mind that for many people the fondest memories of an old-fashioned Thanksgiving have less to do with what they eat and more to do with feeling comfortable and connected.