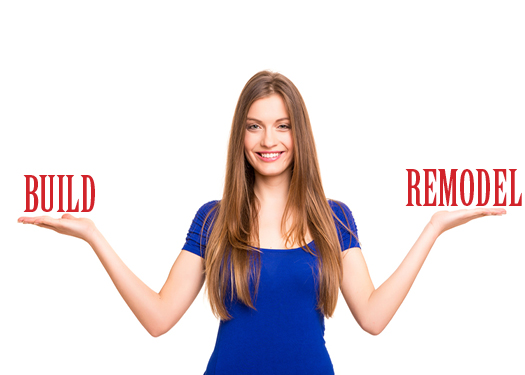 If you have an existing home in the Poconos that simply doesn't meet the needs of your changing lifestyle, you may be facing the choice of remodeling your existing home or building a brand new home. Or if you're considering buying in the Poconos for the first time, you may face a similar situation: Should you buy a home that needs to be updated, or should you start from scratch?
Here are a few questions to consider that can help you make the right decision for you.
How Do You Feel About the Location?
It turns out those realtors were right with their mantra of "location, location, location!" And of course there's more involved than simply an address. Do you like the location of an existing house? Is it convenient? Does it give you the light you want? Is it quiet, or is there too much traffic? How important are the views that you have from the lot?
What Kind of Changes Do You Want to Make?
If you need to add a considerable amount of square footage to an existing home, do you have the space to do it? What about covenants? If you want to change the interior dramatically (for instance, create more of an open floor plan), can you do that with the existing structure?
What About Return on Investment?
Which plan will provide you with the best return on the money you spend? Is it worth it to upgrade an older home, or would you be better off building a new one when it comes time to sell?
Can You Make the Upgrades You Want to Make?
There are times when new upgrades (especially in the area of electrical wiring and plumbing) are hard (or expensive) to make due to changes in codes.
Do You Love the Existing Home?
If you simply love the home you're in—and it holds fond memories for you, you may be willing to pay a little more to stay exactly where you are. Or if you think the existing home you're looking at has a certain charm that you don't think you'll find in a new home, that's great! Those are perfectly good reasons to remodel.
At Liberty Homes, we've been building new homes—and remodeling existing homes in the Poconos for 36 years. We'd love to help you find the right solution for you. We invite you to check out some of our new home designs to see if there's something that looks like it might be right for you. Or take a look at a recent remodeling project we completed in Arrowhead Lakes.