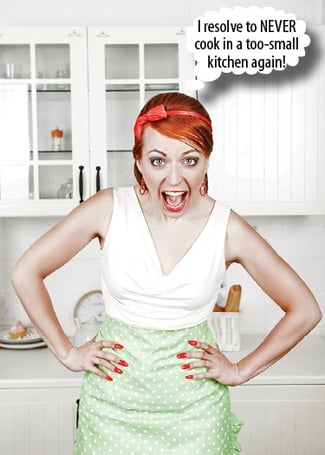 For many of us, the end of the year means making New Year's resolutions. But if you're tired of making resolutions that are hard to stick to, maybe you should try making one you really want to see through: Make one for your Poconos home!
If you've entertained family and friends over the holiday season, you may have noticed certain things about your home that have irked you for some time. Maybe it's the fact that your kitchen is too small—or just isn't set up in a way that makes it fun and easy to prepare meals or casually entertain guests. Or it could be that your kitchen is cut off from the rest of the common space in your home and you feel cut off from family and guests while you're preparing meals. Perhaps it's your family room that feels cramped or too dark and doesn't draw people in.
You could consider building a new place in the Poconos. We do have lots of great floor plans from which to choose that could solve any (or all) of those issues. But what if you like you home, your location, your neighbors, and your views? Do you have to move to get the space or arrangement you want?
It might be that instead of moving out, what you really want to do is move up—by remodeling your existing Poconos home. Whether you're looking to improve the energy-efficiency of your home; to add more space; to redesign existing rooms to maximize the space you have, or to adapt your living space to better suit your changing lifestyle, Liberty can help.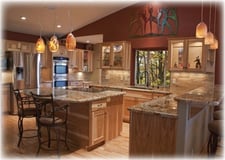 For years our award-winning team has helped Poconos residents with kitchen, bathroom, living room, and basement remodels. We've done additions and garages, and specialty spaces—whatever homeowners have needed. And we've turned crowded, dark "too-small" kitchens into beautiful rooms like the one you see pictured here.
By the way, if it's your kitchen that you'd like to remodel, I invite you to download this free Creating Your Ideal Kitchen eBook. It's packed with helpful information and ideas to help you create the kitchen you've always dreamed of having in your Poconos home.
If you're looking for a New Year's resolution that you'll actually want to keep, leave the treadmill in the basement and make a resolution to improve your Poconos home to make it a place that you and your family and friends will love for years to come!