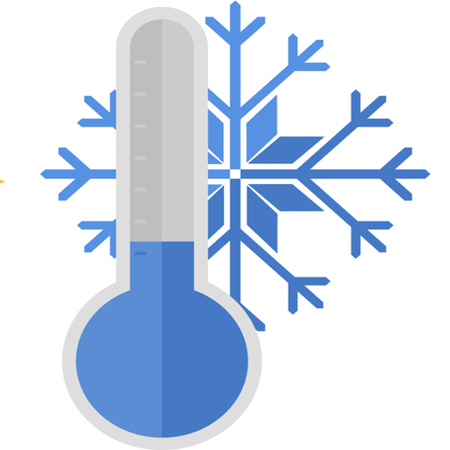 There's a lot of things to like about winter in the Poconos—but higher energy costs isn't one of them. And as sure as the temperature heads down this time of year, the cost of your utility bill will go up.
The folks at energy.gov have some helpful hints for keeping your energy consumption—and your utility bills—under control. Here are five tips you can use.
1. Get With the Program
programmable thermostat can help you control your heating costs. Try turning your thermostat down by 10° or 15° when you're not at home. By reducing your home's heat for eight hours you can save 10 percent on your costs.
2. Let the Sunshine In
If you have unobstructed south-facing windows, try opening the curtains or blinds during the day to allow sunlight to naturally heat your home. At night, close them again to prevent heat loss.
3. Not So Hot
The energy.gov folks say that heating water for your home accounts for anywhere from 14 to 25 percent of all the energy you consume! Try turning your water temperature settings down to 120 degrees to save some money — and to save yourself from being scalded by water that's hotter than you need.
4. A Well-Oiled Machine
While nobody is going to suggest that you actually oil your furnace, it's still smart to service your furnace every year to make sure it's running properly and not wasting energy. Keep an eye on your furnace filters every month and change them if they're dirty. It's a cheap way to ensure efficiency.
5. Turn Your LED Lights On
Switching to energy-efficient LED (Light-emitting-diode) lights for your holiday lighting can save significantly. LEDs are much cooler than conventional (incandescent) lights. In addition to reducing the risk of fire, your bulbs will last longer — and they don't break as easily. Studies show that lighting a six-foot tree for 12 hours a day for 40 days, conventional bulbs will use about $10 in electricity. You can light that same tree with LEDs for about 27¢!
Another way to save energy—and increase comfort—is through a remodeling project. Today's building materials are much more energy efficient than those from even 20 years ago. Replacing old, drafty windows and doors can make your existing Poconos home much more comfortable — and less expensive to heat. And it helps with cooling in the summer months as well!